LBC Research Symposium
Briggs Symposium
Each spring during the last week of classes, Lyman Briggs College celebrates the accomplishments of its students at the Briggs Symposium. Through poster and oral presentations, students share the results of research projects from independent research, honors option projects or classroom projects. In recent years the Symposium has featured original research by more than 600 students each year.
Many LBC courses encourage visitors into their classrooms during these days, so the Research Symposium also acts as an opportunity for students to discover the topics and themes of their upcoming courses.
The Briggs Symposium culminates in a poster competition judged by LBC faculty, alumni, and emeritus faculty, with a cash prize supported by MSU Federal Credit Union.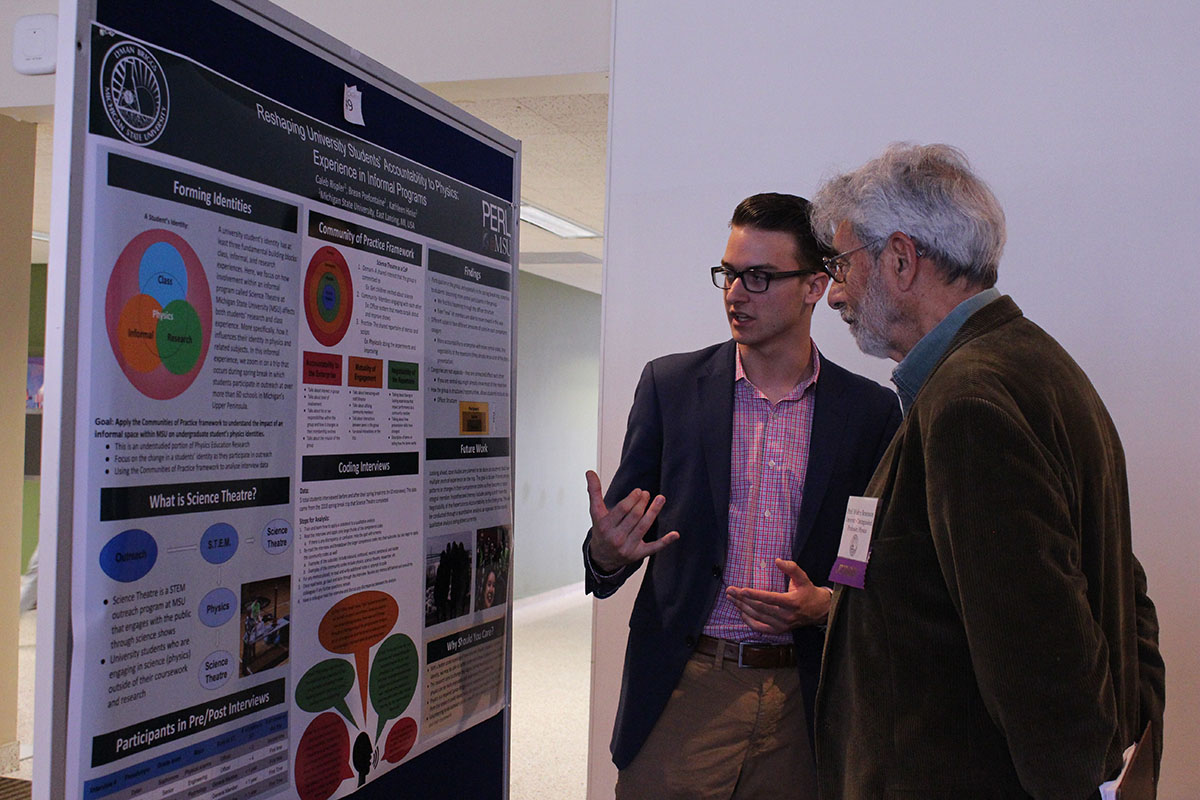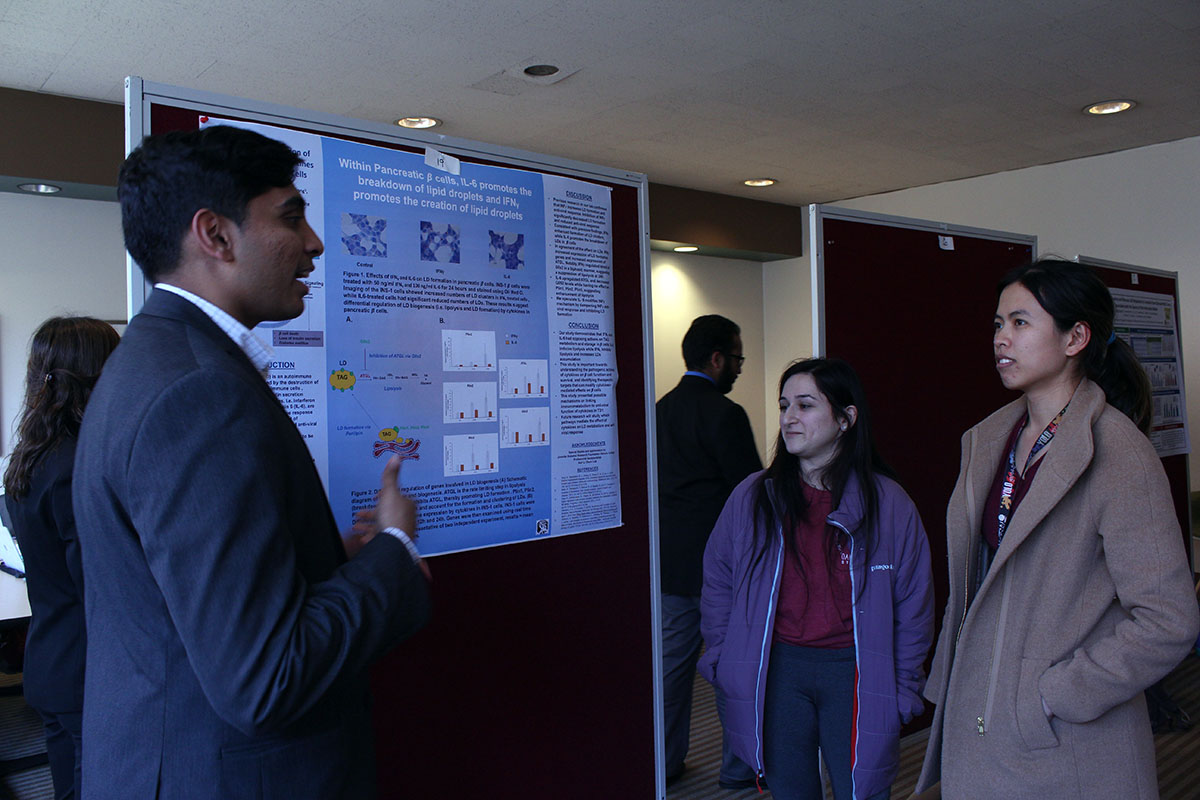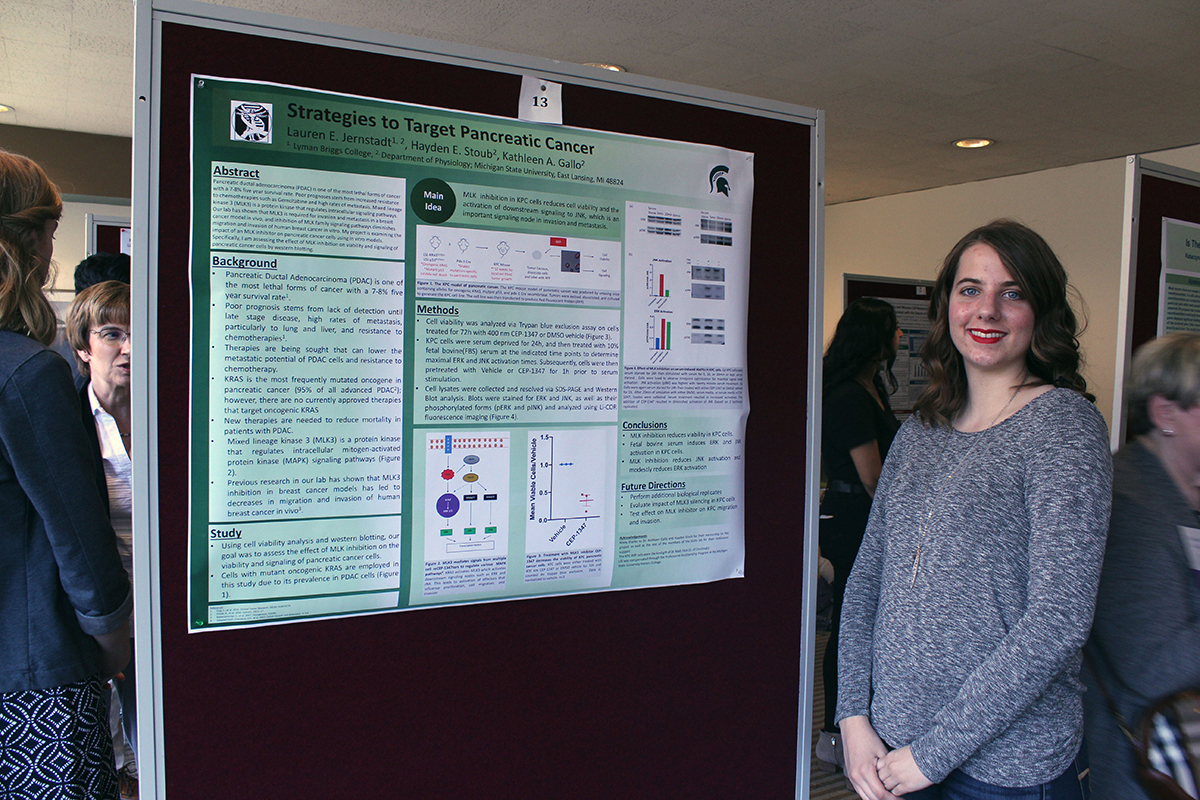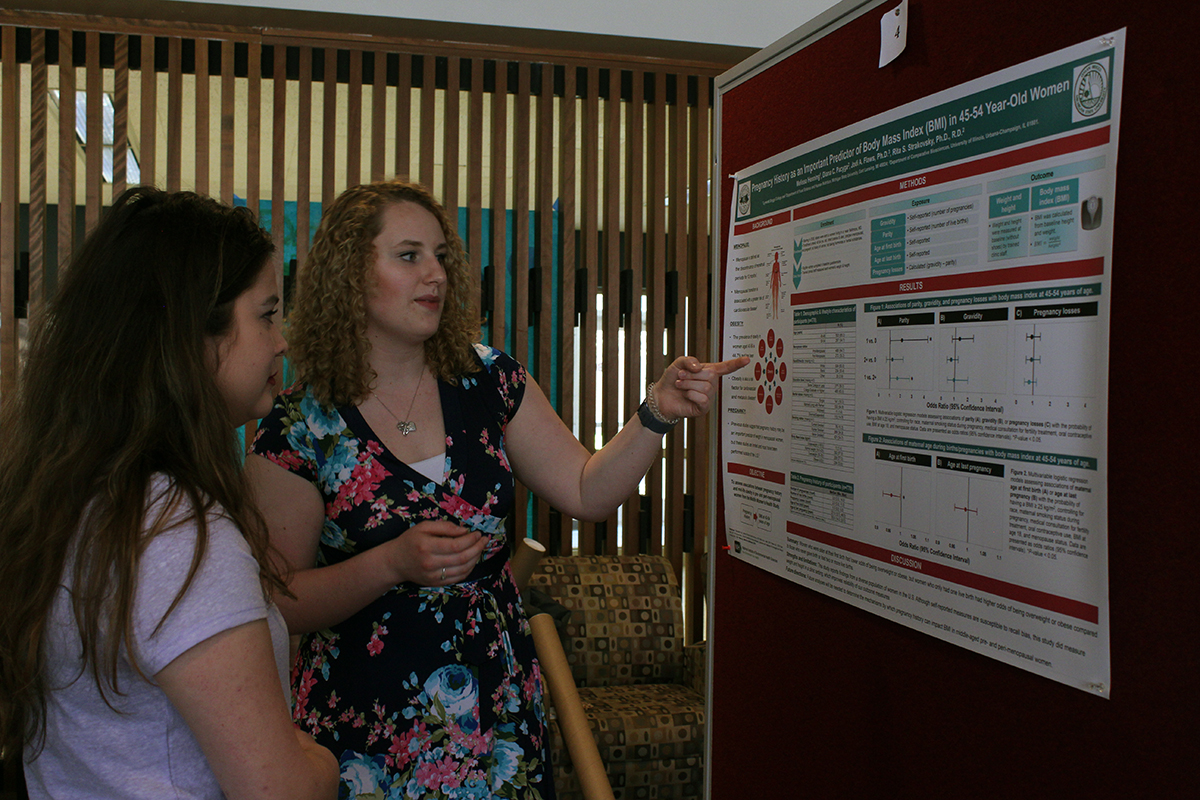 2019
Grand Prize Winner:
Lauren Jernstadt: "Strategies for Targeting Pancreatic Cancer"
Honorable Mentions: 
Malcolm Davis: "A Voice to Be Heard: Understanding the Experiences of Lesbian, Gay, Bisexual, Transgender, and Queer+ People in STEM"
Brooke Devries: "Comparison and Validation of Two Gonadatropin-Releasing Hormone-Promoter Driven Cre Expressing Mice"
Andrew Becker and Parker Cuthbert: "Stimulation to Attentional Brain Networks Selectively Modifies Visual Task Performance 
2018
Grand Prize Winners: 
Kelly Geith, Nick Zonca, Wanda Sankey, Krista Dunger: "Investigating the Use of Next Generation Sequencing of Mitochondrial Genomes for Species Diagnostics for R. pomonella and R. zephyria." 
Honorable Mentions:
Riley Eubanks, Natalie Bobowski, Matt Horvath, Caleb Wendt: "How many photons does it take for an Indiana Brown Bat to survive hibernation?"
Hayden Stoub, Kathleen Gallo: "Deciphering the role of MLK3: An in vivo model of metastatic breast cancer"
2017
Grand Prize Winner: 
Emily Juzwiak: "Isolating Mycobacterium smegmatis mutants resistant to a novel Tuberculosis antimicrobial"
Honorable Mentions: 
Sarah Walsh: "Expression analysis of candidate risk genes for type 2 diabetes in liver tissue of a mouse backcross population" 
Hayden Stoub, Samantha Leacher: "Double blinded study on the effects of elevated blood glucose on the physiological stress response"
Jalpa Patel, Madison Kraus, Shais Raza: "Understanding Students' Perception of Biologists"
2016
Grand Prize Winner:
Olivia Goethe, presentation: "Chemical Route Optimization of Indole Compound"
Honorable Mentions:
Abigail Miller: "Variation of Acylsugar Acyltransferase Function in the Synthesis of an Insect Defense Compound: Acylsugars"
Daniel Schoenherr: "Altered intestinal mucus production in estrogen deficiency is associated with bone loss"
Kelly Jones and Nicole Macker: "Differentiating Between Stuttering and Normal Disfluency in Children"  
2015
Grand Prize Winners:
Clare Laut: "Antibiotic and Immune System Persistence in Group B

 

Streptococcus"
Olivia Goethe: Repurposing an Aminomutase from Taxus Plants
Honorable Mentions: 
Dylan Miller: To Sting Or Not To Sting? Analysis Of Cross-Species And Cross-Sex Stinging Defensive Behavior In Scorpions
Tyler Miksanek: Developing a Quantitative Western Blot Procedure for Chromatin-Associated Proteins 
Lana Grasser: The Neuroscience of Reading: an fMRI Study of Natural Reading
Elena Michel: Functional characterization of a lipid translocator in Chlamydomonas reinhardtii
Abigail Miller: Comparing Acylsucrose Acyltransferase-2 (ASAT2) Activity in Wild Tomato Species
2014
Grand Prize Winners:
Kelly VanDenBerg, Cheryl Rockwell: "Inhibition of Early T Cell Cytokine Production by Arsenic Occurs Independently of Nrf2" 
Katy Kesler, Caleigh Griffin, Greg Ribble, Ahmad Tahawi: "Analysis of Canine Cells to Reveal R1456W and R812W Missense Mutations on CFTR"
Honorable Mentions: 
Jessica Mizzi: "Structural Chemistry and Magnetic Properties of Copper 
Clare Laut: "Acidic Exposure and Enhanced Colonization in Group B

 

Streptococcus"
Megan Kechner, Sophia Kaska, Michelle Mazei-Robison: "Investigating the Effect of Chronic Social Stress on Morphine Reward and the Role of the Ventral Tegmental Area"
Char Panek: "Microbial Communities in the Phyllosphere and their Interaction with the Innate Immune System of

 

Arabidopsis Thaliana"
Research Symposium Programs
(These files may not be fully accessible. Please email lbc@msu.edu if you need assistance accessing them.)