2022 Spring Commencement
May 7, 2022
Lyman Briggs College Spring 2022 Commencement
Location: MSU Auditorium, 542 Auditorium Rd., East Lansing, Michigan, 48824
Date and Time: Saturday, May 7, 2022, 10:00 a.m., Eastern Time
Ceremony livestream on May 7, at 10:00 a.m., Eastern on the MSU Commencement website
Scroll down for the MSU Auditorium feed.
Welcome Slides



University Commencement Program (PDF)
Use the hashtags #SpartanGrad22 #LBCMSU and #Briggsies if you are posting on social media.

Table of Contents
Order of Ceremonies | Award Winners | Briggsies Supporting Briggsies
Share What's Next in Life | Graduate List 
---
Order of Ceremonies
Processional
Pomp and Circumstance, MSU Jazz Orchestra II, Conducted by Diego Rivera

Welcome
Kendra Spence Cheruvelil, Dean,

Lyman Briggs College
America The Beautiful
Composed by Samuel A. Ward and arranged by Mike Tomaro
MSU Jazz Orchestra II, Conducted by Diego Rivera. Vocalist: Caitlyn Sundquist

O beautiful for spacious skies,
For amber waves of grain,
For purple mountain majesties
God shed his grace on thee
And crown thy good with brotherhood
Moment of Silence  
Senior Class Address
De'Anna Tarleton, Animal Science
De'Anna Tarleton is graduating today with a major in Animal Science and a minor in African American and African Studies, and she is currently working at NeuroTheranostics with the Henry Ford Health System. She is the proud mom to baby Charlie, and although her family members Charless Young and Bruce Tarleton are no longer with us, we recognize their support in helping De'Anna be here today.

Commencement Address
Dan Chu, Acting Executive Director, Sierra Club. Executive Director, Sierra Club Foundation
Dan Chu (Lyman Briggs, Class of 1984) is the Acting Executive Director for the Sierra Club, the nation's largest grassroots environmental organization in America. He has been an environmental leader for over 30 years, and has a Master of Science from University of Colorado. Since 2016, Dan has been the Executive Director of the Sierra Club Foundation, the 501(c)(3) fiscal sponsor of the Sierra Club. In that role, he oversees the Foundation's work to provide resources to the Sierra Club and other nonprofit organizations to support scientific, educational, literary, organizing, advocacy, and legal programs. In 2021, Dan also became the Acting Executive Director of the Sierra Club. Dan serves on the board of Confluence Philanthropy, a community of foundations, donors, and investors who are committed to maximizing their social and environmental impact.
Recognition of Achievements and Awards
Niki Rudolph, Assistant Dean for Student Success & Advising, Lyman Briggs College
Ryan Sweeder, Associate Dean for Research & Faculty Affairs, Lyman Briggs College
To graduate with honors, students have earned a cumulative 3.82-3.94 grade point average
To graduate with high honors, students have earned a cumulative 3.95-4.00 grade point average
Conferring of Degrees
Kendra Spence Cheruvelil, Dean, Lyman Briggs College
Readers: Mark Bashore, Jamie Paisley
Alma Mater
MSU Shadows, The MSU Jazz Orchestra II and Audience
M.S.U., We love thy shadows,
when twilight silence falls,
Flushing deep and softly paling,
Beneath the pines we'll gather,
to give our faith so true,
Sing our love for Alma Mater,
When from these scenes we wander,
and twilight shadows fade,
Our mem'ry still will linger,
where light and shadows played;
In the evening oft we'll gather,
and pledge our faith anew,
Sing our love for Alma Mater,
MSU Fight Song
The MSU Jazz Orchestra II

On the banks of the Red Cedar,
is a school that's known to all;
Its specialty is winning,
and those Spartans play good ball;
Spartan teams are never beaten,
all through the game they fght;
Fight for the only colors,
watch the points keep growing.
Spartan teams are bound to win,
they're fghting with a vim.
See their team is weakening,
we're going to win this game.
Fight! Fight! Rah! Team, Fight!
Recessional
The MSU Jazz Orchestra II
Diego Rivera, Conductor
*Denotes member of the Honors College
---
Award Winners
MSU Board of Trustees Award Winners
For students maintaining a 4.0 grade point average throughout their undergraduate careers. 181 total awards were given in Spring 2022, and Lyman Briggs had 30 of them. 6,917 undergraduate students are graduating from MSU this Spring. LBC represents 5% of graduates, but 17% of Board of Trustees Award winners.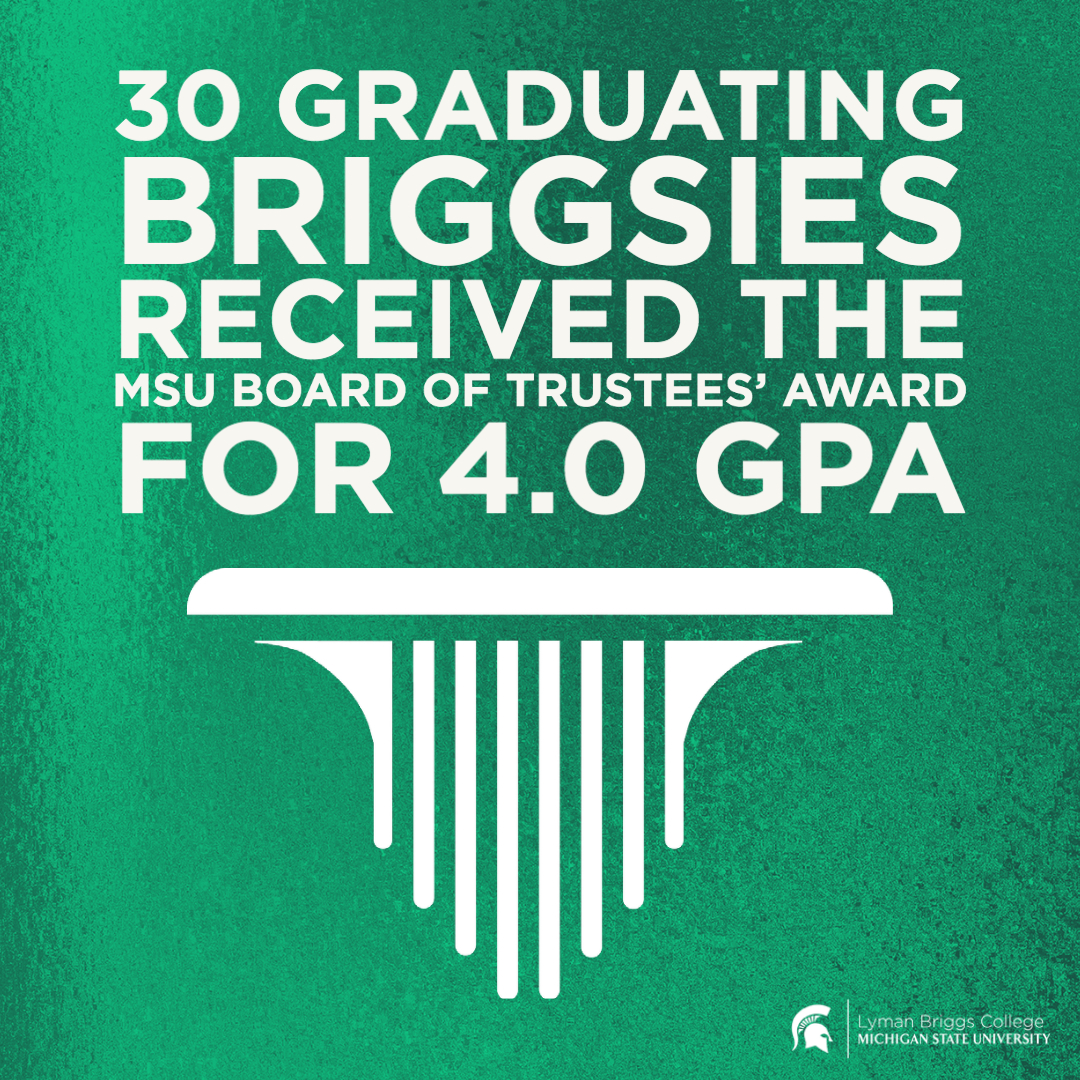 Madeleine Batra*
Shravya Chanamolu*
Katelyn Cheeseman*
Amber Commet*
Joseph Corner*
Madeline Dawson*
Megan Deming
Manasi Desai
Jorge Flores Garcia*
Stephen Fush*
Goutam Gutta*
Eliot Haddad*
Renee Harbowy*
Brandon Hartman*
Brianna Hicks*
Vijayashree Jambunathan*
Gretel Keller*
Alicia Kusaka*
Hongbo Lu*
Anusha Mamidipaka*
Karli Monahan*
Peter Nolan*
Nathalie Nordan*
Samir Rajani*
Sophia Ripley*
Alexa Roy*
Heather Sayles*
Em Segraves*
Dana Simon*
Aidan Tiernan
Academic Excellence Award  
Nominees must demonstrate an exemplary level of academic achievement in the completion of a rigorous course of study, as well as intellectual involvement within their chosen major field of concentration, and a concern for the human aspect of their field of study.
F.B. Dutton Award 
Nominees must exemplify the ideals of connecting the sciences and arts and humanities, and contribute significantly to improving the quality of science education by showing active leadership and participation with the LBC community while maintaining a high level of academic achievement.
Frederick (Fred) Ezenyilimba
Lyman Briggs Outstanding Student Award  
Nominees must display exemplary leadership and dedication to student and alumni activities while earning a high level of academic achievement.
Lyman Briggs College Banner Carrier
President's Award
Awarded to only a few students for the highest level of academic achievement among graduating Spartan student-athletes. Presented by the Spartan Athlete Support Services Department.
Sarah Flowney, member of the MSU Rowing Team
*Denotes member of the Honors College
---
Briggsies Supporting Briggsies
Briggs Ambassadors
Briggs Ambassadors are a crucial part of LBC's recruitment efforts. They meet individually, serve on panels, and give tours to future students, serving as representatives for the college and sharing their personal expereiences.
Emily Mabry*
Karli Monahan*
Neila Thomas*
Peer Support Leaders
Peer Support Leaders support incoming student enrollment during New Student Orientation over the summer and annual enrollment during the spring semester. They conduct individual and group advising, as well as workshops and social media campaigns. 
Alaina Rubenacker-O'Dell*




Shravya Chanamolu*
Peer Mentors  
Peer mentors are matched with new LBC students to receive mentoring during their first semester in Briggs. They help their mentees navigate their first semester of college by hosting group events and one-on-one check-ins, and by facilitating group chats.
Apoorva Akalankam
Kadie Bernstein*
Wiley Fraser
Kathryn Hurt
Mia Kochanek
Emily Mabry*
Karli Monahan*
Nathalie Nordan*
Meghana Odapally*
Jay Panunganti
Zack Wojcik*
Undergraduate Learning Assistants
Learning assistants enrich the student learning experience. They are part of teaching teams across the college, teaching their near-peers important concepts and skills and providing class, lab, and recitation learning support. Approximately 100 Briggsies serve in these important roles in fall and spring semesters.
Briggs Student Advisory Council Members
Nicole Epshteyn, President
Sarah Albani, Vice-President
Sim Singh*
Kostas Mantzios
Sara Hak
Associated Students of Michigan State University
Senior Class Council: Muhammad Khan
*Denotes member of the Honors College
---
Share what's next in life
For those of you who are starting a new job or committing to a graduate or professional school, congratulations! We would love to hear more about your next opportunity. Log in with your MSU NetID and password, and share what you're up to next.
 
If you're still trying to decide your next steps: don't fear! You have access to MSU Career Services for two years after you graduate. Book an appointment with Krysta Coleman, LBC's career consultant, to talk about resumes, grad school searches, mock interviews, or anything else associated with your post-grad plans. 
---
Lyman Briggs College Graduates, Spring and Summer Class of 2022
Alphabetized by last name 
A-C 
Sergio Acuna*, Zoology, Integrative Biology, High Honors


Apoorva Akalankam, Physiology

Yazan Al-Sanouri, Human Biology, High Honors

Sarah Albani, Neuroscience, Honors


Salma Alduais, Human Biology

Mitchell Alekman, Biochemistry & Molecular Biology, Honors

Erika Amicucci, Biochemistry & Molecular Biology, Psychology BA, Honors


Sophie Anderson, Biology, Environmental Sciences & Management

Angie Angelucci, Biochemistry & Molecular Biology

Ashley Atkinson*, Genomics & Molecular Genetics, Nutritional Sciences, Honors

Raina Awdish*, Neuroscience, Psychology BA

Caitlyn Babi*, Neuroscience, Honors

Owen Babington*, Neuroscience, Honors
Mackenzie Bachert, Human Biology
Sarah Bajema*, Zoology, Honors
Julia Baker, Animal Science, Honors
Justin Baker* Neuroscience, Honors
Josh Barbachyn, Chemistry, High Honors
Natalie Barstys*, Human Biology, Epidemiology MS, High Honors
Madeleine Batra*, Neuroscience, High Honors
Greg Battley, Chemistry
Colin Benedict*, Neuroscience
Matthew Berg, Neuroscience
Kadie Bernstein, Genomics & Molecular Genetics, Human Biology, Honors
Maria Berry*, Microbiology, Microbiology & Molecular Genetics MS, Honors
Minali Bhatt*, Environmental Biology/Plant Biology, Entomology
Humza Bhatti*, Human Biology
Courtney Bigelow, Animal Science
Elisa Bills, Human Biology, Honors
Hailey Bond, Neuroscience, Honors
Jordan Bonk, Human Biology, Honors
Allie Bonzelet, Biomedical Laboratory Science
Cynthia Bueche*, Human Biology, Honors
Joe Burke*, Genomics & Molecular Genetics, High Honors
Paris Burke, Neuroscience
Olivia Burton*, Human Biology
Marissa Cabrera, Human Biology
Isabella Calus, Human Biology
Mikayla Calverley*, Biology, Anthropology, Honors
Sam Carter, Human Biology
Ashley Caughell, Biochemistry & Molecular Biology
Ally Cavataio, Human Biology, High Honors
Timothy Chalom, Neuroscience, High Honors
Shravya Chanamolu*, Human Biology, High Honors
Austin Chase, Microbiology
Travis Chase, Human Biology
Katelyn Cheeseman*, Human Biology, High Honors
Sandy Chen, Neuroscience
Soumya Chennupati*, Human Biology, Honors
Alyssa Cloud*, Human Biology
Delaney Collazo* Biochemistry/Biotechnology, Genomics & Molecular Genetics, Honors
Taylor Collier, Animal Science
Amber Commet* Environmental Biology/Plant Biology, High Honors
Annalise Cornell* Biochemistry/Biotechnology
Joe Corner, Neuroscience, High Honors
Marissa Cortright*, Neuroscience, Criminal Justice, Honors
*Denotes member of the Honors College
D-H 
Madeline Dawson*, Genomics & Molecular Genetics, High Honors

Megan Deming, Human Biology, High Honors

Manasi Desai*, Human Biology, Neuroscience, High Honors

Suraj Desai, Human Biology,

Rachel Dietz*, Physiology

Francesca Dintrono, History, Philosophy & Sociology of Science

Olivia Dionisio, Human Biology

Ashok Dodaballapur, Computer Science

Mckenna Dooley, Human Biology

Amita Dutt, Human Biology

Kevin Ely, Biological Science

Nicole Epshteyn, Human Biology, Honors

Frederick Ezenyilimba, Physiology, High Honors

Abbey Fallon, Physics, Honors

Austin Fedewa, Physiology, Honors

Morgan Fellows, Neuroscience, Psychology

Jorge Flores Garcia*, Neuroscience, High Honors

Sarah Flowney, Human Biology, High Honors

Larissa Ford, Biochemistry & Molecular Biology, High Honors

Wiley Fraser, Neuroscience

Trevor Fush*, Astrophysics, High Honors

Mitchell Gabalski, Biochemistry/Biotechnology

Rohan Gade, Physiology

Madi Gallavin, Zoology

Esha Garg*, Nutritional Sciences, Human Biology, High Honors

Daruk Garlapati*, Physiology, High Honors

Gabbi Gaskin, Neuroscience

Kate Gavagan*, Biology, Spanish BA, Honors

Jeron George*, Human Biology, High Honors

Natalie George, Physiology, Honors

Teresa Girard*, Neuroscience, Psychology BA, Honors

Deenarah Giraud, Biology, Plant Biology

Nathan Glaza, Biochemistry & Molecular Biology, Human Biology

Natalie Goff, Neuroscience, Human Biology

Izik Goldman, Human Biology, Honors

Mara Gordon, Neuroscience, High Honors

Alex Gordon*, Human Biology, Honors

Mackenzie Greene*, Genomics & Molecular Genetics, Microbiology, High Honors

Amanda Greening, Neuroscience, Honors

Nash Gregory, Human Biology

Josie Griffith, Fisheries and Wildlife

Abbey Guevara*, Human Biology, Honors

Goutam Gutta*, Human Biology, High Honors

Eliot Haddad*, Human Biology, High Honors

Sara Hak, Neuroscience, Honors

Kayla Hall, Genomics & Molecular Genetics

Joseph Hanania*, Neuroscience, Honors

Sushil Hanumolu*, Physiology, High Honors

Renee Harbowy*, Animal Science, High Honors

Maya Harris, Human Biology

Brandon Hartman*, Neuroscience, High Honors

Linnea Hartz, Genomics & Molecular Genetics, Human Biology, Honors

Kylee Hasbany, Neuroscience, Psychology BA

Fateh Hayat, Human Biology, High Honors

Xander Hazel-Groux, History, Philosophy & Sociology of Science

Amya Heath*, Human Biology, High Honors

Anna Heath*, Physiology, High Honors

Ethan Heilman, Biology

Katherine Heise, Human Biology, Honors

Joe Henein, Physiology

Morgan Herlevi, Genomics & Molecular Genetics

Brianna Hicks*, Neuroscience, High Honors

Madi Hiestand, Human Biology

Annie Hillenberg*, Genomics & Molecular Genetics, Human Biology, Honors

Annie Hoang-Pham, Human Biology

Zac Howell*, Physiology, Psychology BA, High Honors

Wynneth Huang, Human Biology, Honors

Jordyn Hughes*, Animal Science, Honors

Kathryn Hurt, Animal Science
*Denotes member of the Honors College
I-M
Shruthi Ilango*, Neuroscience, Human Biology, High Honors

Meghan Irving, Animal Science

Aedan Jager, Physiology, Honors

Ria Jain, Physiology

Viji Jambunathan*, Nutritional Sciences, Human Biology, High Honors

Maxim Jani, Neuroscience, High Honors

Richa Javkar, Neuroscience

Olivia Jeris, Zoology

Jason Jia, Human Biology, High Honors

Su Joa, Neuroscience


Jaylynn Jones, Microbiology

Katie Jones, Human Biology

Spencer Junod*, Neuroscience, High Honors

Trishul Kalapuram, Neuroscience

Aishu Kamarajan, Human Biology, Honors

Bhavya Kamepalli, Neuroscience

Gretel Keller*, Zoology, High Honors

Sergei Kelley, Fisheries and Wildlife, Political Theory & Constitutional Democracy BA

Vendela Kerner, Human Biology, Honors

Hamza Khan, Neuroscience

Muhammad Khan, Nutritional Sciences

Sema Khraishi, Human Biology

Joree Kidd, Biomedical Laboratory Science

Gabe Kirschner, Human Biology, Honors

Mia Kochanek, Human Biology, Honors

Karthik Kolisetty*, Human Biology, High Honors

Keeli Kornak-Kotarba, Physiology, Honors

Makinni Kornak-Kotarba, Human Biology, Honors

Hayley Kuhn*, Neuroscience, Honors

Pranali Kulkarni, Human Biology

Alex Kurkechian, Human Biology

Alicia Kusaka*, Neuroscience, High Honors

Eden Laclair, Animal Science

Salsabil Lamiha, Human Biology

Sophie Lamphier, Neuroscience

Brooke Lapinski, Biochemistry & Molecular Biology

Regan Levy, Mathematics, Human Biology

Elle Lewandowski, Chemistry

Lauren Linenfelser*, Neuroscience, Honors

Nicole Lipon, Physiology, Honors

Jessica Liu* Microbiology, High Honors

John Logan, Neuroscience, Honors

Philip Longueuil*, Microbiology

Samantha Lopiccolo Neuroscience, Human Biology

Jack Loring, Physiology, Honors

Peter Lu*, Advanced Mathematics, Chemistry, High Honors

Anna Luxhoj, Neuroscience, Psychology BA

Hanna Mabesa, Biochemistry & Molecular Biology

Emily Mabry*, Human Biology, Anthropology, Honors

Iain MacDonald, Neuroscience

Antonio Maceri, Human Biology

Elliot Majlessi, Biochemistry & Molecular Biology, Honors

Sabrina Malkoun, Zoology, Honors

Anusha Mamidipaka*, Neuroscience, Psychology BA, High Honors

Mia Mansfield, Animal Science

Kostas Mantzios, Human Biology

Anna Martin*, Genomics & Molecular Genetics


Selena Martinez*, Genomics & Molecular Genetics

Nija Maye, Neuroscience

Veronica Mccall, Human Biology

Erin Mcdonough*, Zoology, Honors

Malena McKinney*, Biochemistry & Molecular Biology, High Honors

Blake Mearim, Human Biology

Anna Mellema* Mathematics, Business Data Science MS

Courtney Merritt, Genomics & Molecular Genetics




Meri Michael, Physiology, Honors




Stephanie Mikula, History, Philosophy & Sociology of Science, Honors




Brielle Miller*, Neuroscience, Honors




Zach Miller*, Neuroscience




Taylor Moilanen, Human Biology




Karli Monahan*, Physiology, High Honors




Dev Mookerjee*, Neuroscience, Honors




Mohini Mukherjee, Human Biology, Supply Chain Management BA




Hannah Mulheron, Food Science




Brooklynn Murray, Physiology, High Honors
*Denotes member of the Honors College
N-R

Julianna Nagy*, Microbiology, Human Biology, High Honors

Akila Nallabelli*, Human Biology, High Honors

Nikila Nallabelli*, Human Biology, High Honors

Aishwarya Narayan, Genomics & Molecular Genetics, Microbiology

Srushti Narkhede, Biochemistry/Biotechnology

Lauren Navarre, Neuroscience

Megan Nicol, Nutritional Sciences

Kirtana Nimmakayala, Neuroscience

Niveytha Nithiyananthan, Human Biology

Peter Nolan*, Physiology, High Honors

Nathalie Nordan*, Neuroscience, High Honors

Mahmoud Obeidi, Neuroscience, Human Biology

Meghana Odapally*, Human Biology, High Honors

Christopher Oduntan, Neuroscience, Human Biology

Harley Orr, Zoology

Abby Ortwine, Human Biology, Honors

Nicole Ostrander, Microbiology, Animal Science, Honors

Gabrielle Oxie, Physiology

Arian Pakray, Human Biology, High Honors

Yamini Pandey, Physiology, Honors

Jay Panuganti, Human Biology

Rachna Parikh, Human Biology

Shree Parikh, Human Biology

Priyam Patel, Biochemistry & Molecular Biology, Honors

Vijval Patel, Physiology, Honors

Anushka Patel, Human Biology

Nishi Patel, Neuroscience, Psychology BA

Montana Paton, Neuroscience

Ciara Pavlinac, Zoology, Honors

Madi Pellman, Biomedical Laboratory Science, Honors

Elizabeth Perakes, Environmental Sciences & Management, Honors

Ashlee Perry, Genomics & Molecular Genetics, Women's and Gender Studies, Honors

Pooja Peter*, Human Biology

McKenna Pilley, Neuroscience, Honors

Sean Pitcher, Genomics & Molecular Genetics, Microbiology

Heather Pitlanish*, Nutritional Sciences, Communication BA, Honors


Shenika Plantegenest, Physiology



Armani Poindexter, History, Philosophy & Sociology of Science

Carolina Poliss, Human Biology, Honors

Kathryn Popoff, Chemistry, Honors

Sarah Qureshi, Human Biology, Honors

Areebah Qureshi, Human Biology

Iris Qyteti, Neuroscience, Human Biology

Grant Racer, Genomics & Molecular Genetics, Honors

Samir Rajani*, Neuroscience, High Honors

Jessica Ranshaw*, Astrophysics, Honors

Sam Raphtis, Human Biology

Jana Ratzloff*, Chemical Engineering, Chemistry

Ali Rida, Biochemistry/Biotechnology, Honors

Sophia Ripley*, Neuroscience, High Honors

Ava Rivard*, Human Biology, High Honors

Fletcher Robbins*, Environmental Biology/Plant Biology

Harrison Roberts, Biochemistry & Molecular Biology

Abby Rochlen, Human Biology, Honors

Kathryne Rojeck, Human Biology, Genomics & Molecular Genetics

Gabriela Rowe, Nutritional Sciences, Honors

Alex Roy*, Genomics & Molecular Genetics, Microbiology & Molecular Genetics MS, High Honors

Alaina Rubenacker-O'Dell*, Neuroscience, Spanish BA

Roman Ruddy, Human Biology

Daniel Ruvio*, Human Biology, Honors

*Denotes member of the Honors College
S-Z 
Bella Said, Data Science, Honors
Adrianna Salah*, Human Biology
Keegan Salmon, Environmental Sciences & Management
Fiorella Sanabria Bascha, Neuroscience
Heather Sayles*, Neuroscience, High Honors
Alex Schafer, Neuroscience
Erica Schafer, Genomics & Molecular Genetics, Human Biology
Cora Schau*, Animal Science
Em Segraves*, Genomics & Molecular Genetics, Microbiology, High Honors
Rishabh Setty, Mathematics
Niyanka Shah, Human Biology, Honors
Madeline Shank*, Human Biology, High Honors
Aliyeh Shawat, Genomics & Molecular Genetics, Human Biology
Ameer Shouekani, Human Biology, Honors
Greg Sigler, Physiology
Rachel Simoes*, Neuroscience, High Honors
Dana Simon*, Physiology, High Honors
Sim Singh*, Neuroscience, High Honors
Simerpreet Singh, Biology, Psychology BA, Honors
Shruti Sivakumar, Human Biology, High Honors
Natalie Siwula, Physiology, Honors
Nicole Skinner*, Nutritional Sciences, High Honors
Maya Skolnik, Nutritional Sciences
Jack Skyta, Physiology
Dawson Sloan, Chemistry, Neuroscience
Phoebe Smith, Mathematics
Alanah Soriano, Physiology
Olivia Sowa*, Biological Science, Honors
Kya Sparks, Microbiology
Ella Spicketts, Neuroscience, Psychology BA
Adam Sternschuss*, Human Biology
Mary Steusloff, Microbiology, High Honors
Gretchen Stuben, Physiology
Carolyn Stults, Genomics & Molecular Genetics
Megan Supernaw, Human Biology, Psychology
Aymen Syeda, Human Biology, Honors
Sydney Szumowicz, Zoology
Audrey Tacderas, Biochemistry/Biotechnology
De'Anna Tarleton, Animal Science, Integrative Biology
Yasmine Tenouri, Human Biology
Neila Thomas*, Neuroscience, Honors
Elise Thomas, Neuroscience
Sara Thompson, Chemistry, History, Philosophy & Sociology of Science
Aidan Tiernan, Physiology, High Honors
Charlie Toma, Physiology
Ella Totaro*, Biology, Honors
Lauren Truitt*, Biochemistry & Molecular Biology
Alex Urlaub, Zoology, Entomology
Ben Uzorka, Biochemistry & Molecular Biology
Brynn Van dyke, Human Biology
Sarah Vander Roest, Biochemistry & Molecular Biology
Matthew Vernier, Physiology
Nidhi Vorakkara, Human Biology
Hannah Voytowich, Neuroscience
Jacob Waitzman, Human Biology, High Honors
Ryan Wakley*, Biochemistry & Molecular Biology, High Honors
Lauren Walkon*, Physiology, High Honors
Zoe Weil, Human Biology
Cj Whitford*, Human Biology, Honors
Katelyn Whitlatch*, Human Biology, Honors
Lily Whitty, Physiology, Honors
Alicia Wills*, Neuroscience, Honors
Gavin Wink, Human Biology
Zack Wojcik*, Human Biology, Honors
Matt Wolf*, Human Biology
Griffin Zajkowski, Biochemistry & Molecular Biology, Human Biology
Peter Zakaria*, Biochemistry & Molecular Biology, High Honors
Matthew Zawisa*, Physiology, High Honors
Evan Ziehl*, Neuroscience
Lauren Zuzga, Human Biology
*Denotes member of the Honors College