New art in LBC highlights the danger plastic pollution poses to marine life
February 17, 2022 - Blythe White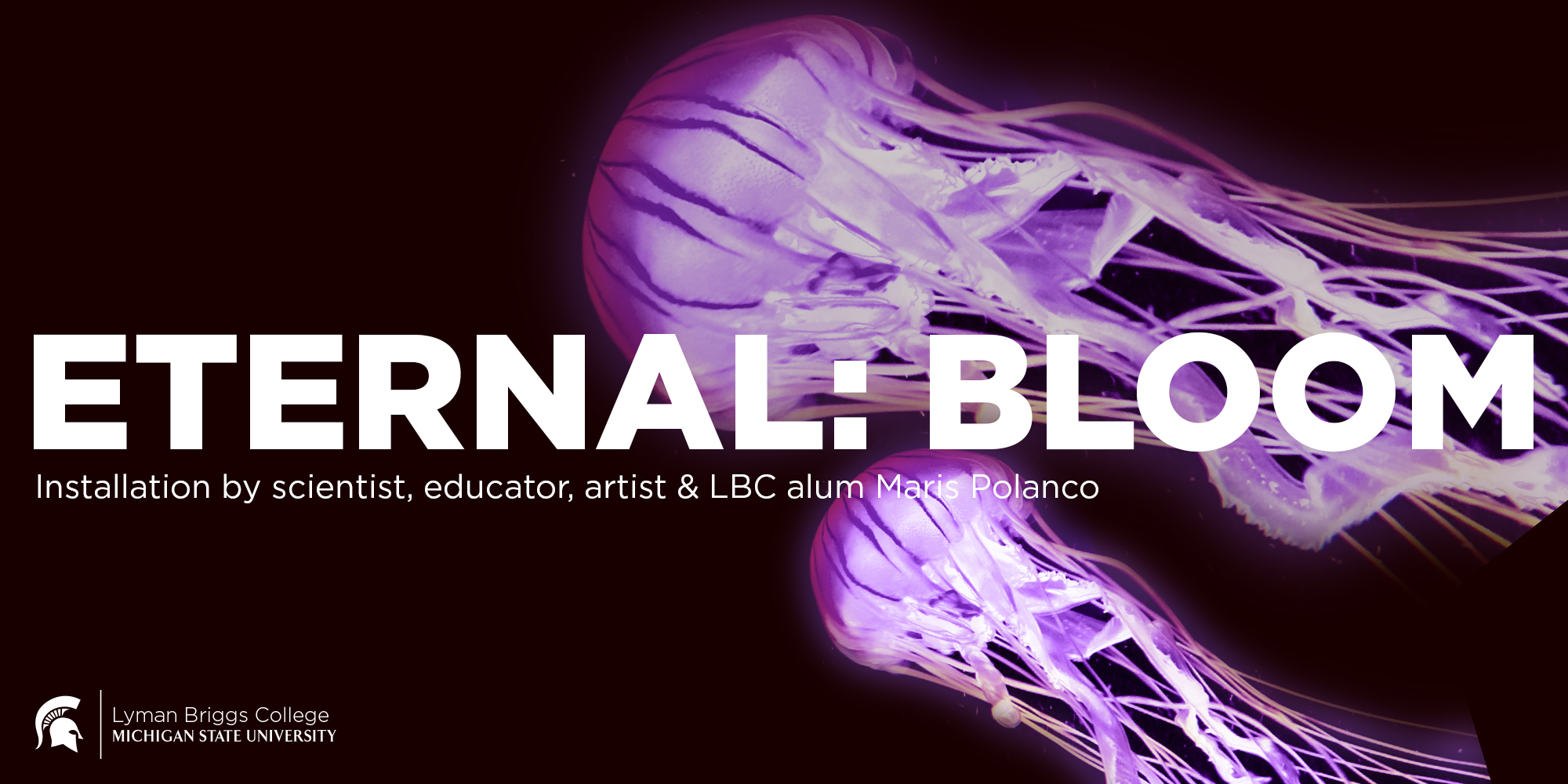 A large-scale science-art installation that highlights the danger plastic pollution poses to marine life has been installed in the Holmes Dining Hall. The work, ETERNAL: BLOOM, was made by artist, scientist, educator and Lyman Briggs College alum Maris Polanco (Class of 2014, Human Biology).
ETERNAL: BLOOM is a group of jellyfish suspended from the ceiling, along a 46-foot-long wall, with tentacles transcending the space of its aqueous blue and glowing purple environment into the seating space of the dining hall. A closer inspection reveals that the jellies are made of plastic pollutants: bodies, tentacles, and oral arms woven from single-use plastic Meijer, Kroger, and Target bags.
The art is compelling and the reality of plastic in the oceans is sobering. Billions of pounds of plastic enter the world's oceans each year. Undigestible heaps of fishing nets and plastic bags are routinely found in the stomachs of deceased whales, dolphins, sea turtles, and sea birds. It is estimated that one million marine animals die every year after consuming plastic. The resemblance of a floating shopping bag to a jellyfish is thought to be behind some cases of intentional plastic ingestion by dolphins and turtles.
Polanco first installed her original jellyfish sculpture, ETERNAL, for an exhibition called "Depth" by Michigan State University's Science Gallery at the Michigan Science Center. The 60-foot-long sculpture was subsequently displayed in the National Academy of Sciences in Washington, D.C. as part of a LabX production, The ETERNAL Experience.
The sequel, ETERNAL: BLOOM was commissioned by Lyman Briggs College in 2021. It was made possible through the Lyman Briggs Arts Enrichment Fund, Dr. Edward C. Ingraham (director emeritus of Lyman Briggs School) and Martha Mertz.
A Celebration: ETERNAL: BLOOM Opening Event March 18
Join Lyman Briggs College for a celebration of this powerful new science-art installation. Come to be inspired by the art and stay for the science of plastics and the future of packaging.
On Friday, March 18, from 5:30–6:30 p.m. we will gather in the Holmes Dining Hall for presentations by artist Maris Polanco and Dr. Muhammad Rabnawaz, assistant professor and Principal Investigator of the Sustainable Materials Group in the MSU School of Packaging.
ETERNAL BLOOM: OPENING
Friday, March 18, 2022
5:30–6:30 p.m. EST
Holmes Dining Hall
About the Speakers:
Maris Polanco is a Columbian-American scientist, educator, and artist based in Detroit. She earned her Bachelor of Science in human biology from Lyman Briggs College and her Master of Science in Pharmacology from the University of Michigan. Currently she works as a biology educator and lab manager. Polanco stays active as an artist exploring conservation. Follow her on Instagram or Twitter @maris_polanco.
Muhammad Rabnawaz is assistant professor and Principal Investigator of the Sustainable Materials Group in the MSU School of Packaging. Currently Dr. Rabnawaz is pursuing research in the field of polymer science encompassing sustainable materials and multifunctional materials. He is passionate about reducing plastic waste from the packaging industry and creating end-of-life solutions for waste plastics. Rabnawaz is the recipient of the 2021 NSF CAREER Award and the 2021 MSU Innovator of the Year Award.