Alumni Spotlight: Heather Sowinski
Heather Sowinski, D.O., is a 2004 graduate of Lyman Briggs College, with a majors in human biology. She received her Doctor of Osteopathic Medicine degree from the MSU College of Osteopathic Medicine and currently serves as a pediatric cardiologist with Spectrum Health, working in the network of Helen DeVos Children's Hospitals around the the state of Michigan.
Sowinski was named a Top Doctor in the 2022 Grand Rapids Magazine.
We asked Dr. Sowinski a few questions about her education and career.
Why did you choose to attend Lyman Briggs?
Like many others, I greatly appreciated being a part of a small group within a big institution. You get the best of both worlds with benefits of both a small and big institution. Lyman Briggs allows you to interact with like-minded people who were also looking for careers in science and math. 
What's your favorite memory from Lyman Briggs?
I don't know if I have one specific memory, but I do remember the general feeling of being at Lyman Briggs. It was a general sense of having a strong community of people. My favorite class was Physics. Prior to my physics class at Lyman Briggs, I had thought of physics purely as it applied to a metal machine. The professors helped me to understand how the human body also was a machine that you could apply physics concepts to. This shift in perspective piqued my interest in the physiology of medicine.
What's the best piece of advice you could give to undergraduate students?
My best piece of advice is to keep an open mind and find a good mentor. Good mentors can help to open your eyes to blind spots that will give you invaluable perspective. No one made it to where they are completely on their own.
Why did you go into your particular field of medicine?
There are many reasons I chose to pursue a career in pediatric cardiology. First, I greatly enjoy caring for children. In medicine, we often have to deal with very difficult situations. Children have a unique ability to focus on the positive aspects of life creating such a wonderful environment to work in. It is always so inspiring and humbling to be a part of their world. 
Second, the physiology of the heart has always interested me. Pediatric cardiology gives me the ability to actively apply physiology to each patient I see. To this day, I still enjoy the challenge of thinking through the physiology of a congenital heart defect first and then applying that knowledge to my patient to understand what symptoms they may have and how I can help them.
What is the biggest obstacle you've faced in your career journey?
The biggest obstacle was keeping perspective. A career in medicine is a long journey. With long journeys, there are bound to be bumps or even huge boulders in the way.  At the end of the day, though, I am able to say that I love what I do. I look forward to seeing my patients and their families. I recognize that is a luxury as I know not everyone is able to say that about their job. That luxury has made the long journey worth it for me.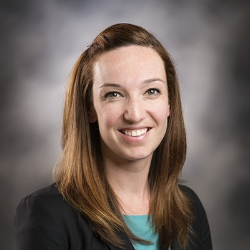 If you or your company are doing something for the community, we'd love to hear about it. Connect with Alumni and Donor Relations Coordinator Sarah Dickinson.