Q & A with Young Alumni Award recipient Shannon Wilson
March 15, 2019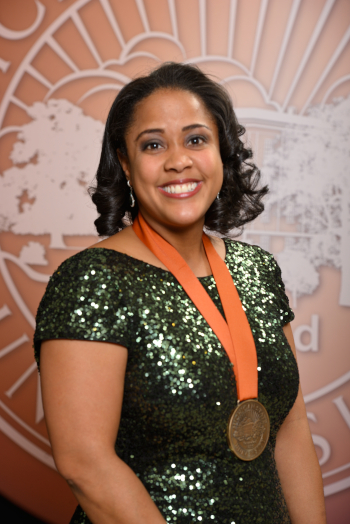 Shannon Wilson received the Young Alumni Award from the MSU Alumni Association for her impressive work in the health care field. Wilson graduated from Lyman Briggs College in 2002 with a degree in Medical Microbiology. She is the executive director of the African American Health Institute. Wilson is also currently an adjunct faculty member of both Grand Valley State University and Michigan State University's College of Human Medicine where she prepares future physicians and health care professionals.
What does it mean to you to receive this award?
"This award is my shining accomplishment- of all the awards- the one that means the most. My love for this University is unwavering. To be honored by an institution that has given so much to me and invested so much in my life, and the lives of many of my loved ones... I cannot put into words how honored I am."
Was there a teacher or mentor who made an impact on you or set you on your current path?
"Sharon Griffin of the Charles Drew Science Enrichment Laboratory- she was a mentor, friend, and teacher. Dr. Griffin made sure that we had a great understanding of mathematics, but also that we knew that someone was invested in our success at Michigan State University."
"Dr. Karen Patricia Williams- Dr. Williams led the Lane Premedical Society, she, along with Dr. Wanda Lipscomb, made sure that as undergraduate students we were exposed to multiple aspects of the health care system. It was through the Lane Premedical Society that I was first introduced to the discipline of Epidemiology....and I'd say the rest is history!"
How did LBC prepare you for your career?
"Confidence. Competing within the rigorous academic setting of Lyman Briggs gave me the confidence needed to compete in any setting. Academic preparation in LBC required that we were prepared, organized and ready to meet daily challenges... all skills that transcend beyond college."
What do you enjoy most about working with future physicians and healthcare professionals?
"Challenging them to see the entire person. I want to make sure that future physicians understand how the world around them (and around their patients) impacts health. We have to think about how the social, political, and even personal factors play a role in achieving health- and this is often not a direct component of clinical care."
"I love that future practitioners are eager to learn, and ready to change the world for the better!"
What challenges have you had to overcome to get to where you are now?
"I have taken a "non-traditional" career path... working as an epidemiologist, leading a small nonprofit and now working for a health plan. Learning new sectors and working in newly created positions creates a great deal of pressure, especially when you are deemed a "high performer". Fortunately, I love the challenge of exceeding expectations and growing outside of my comfort zone!"
What excites you about your work?
"The impact that my work has on every day people. I now work as the Director of Medicaid outreach and quality, where I get to ensure that our health system works for our most vulnerable populations."
What is your ultimate career goal?
"Ultimately, I'd like to end up on the philanthropy side of healthcare. I believe that philanthropy has a large role in driving innovation and channeling the trajectory of healthcare. My goal is to have a leadership role in a health-related philanthropic organization."
What would you say to students who are considering attending Lyman Briggs?
"LBC gives you the best of ALL worlds. You get a rigorous academic setting, with smaller class sizes and intimate group collaboration, coupled with all the perks of a big ten university (social options, athletics, opportunities). There is no wrong choice with LBC!"