2019 Research Symposium
April 23, 2019
For students at Lyman Briggs College, research is an important part of coursework and career development. Each April, the college features research during the Lyman Briggs Research Symposium. Once component of the symposium is course-related research presentations. This year, approximately 50 presentations won best-in-class awards, which included a coupon for a free scoop of MSU Dairy Store ice cream.

The marquis event is the LBC Research Symposium Poster Session supported by MSUFCU. Students have the opportunity to present their work to the Briggs community in one college-wide poster session. Through poster and oral presentations, students share the results of faculty-led projects, class projects, or independent research projects.

Symposium coordinator and LBC associate professor of chemistry, Dr. Ryan Sweeder, says, "The symposium is meant to be an opportunity to celebrate and publicly share the amazing work of our students. In the symposium setting, the students can share their discoveries and passion with peers and faculty. At the same time, students engage in the authentic practices of sciences through the dissemination of knowledge in presentations."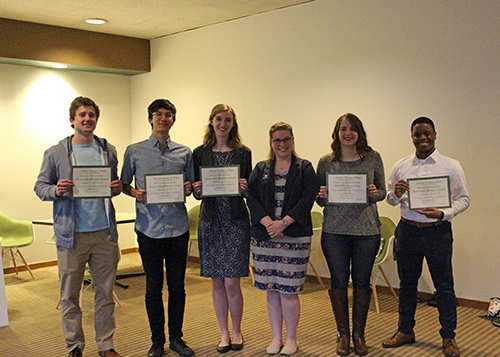 On Tuesday, April 23, 2019, over 40 students presented posters. LBC alumni and emeriti faculty served as the panel of judges and awarded honorable mention awards and the $1,000 MSUFCU Grand Prize.
Honorable mentions were awarded to:
Brooke Devries for Comparison and Validation of Two Gonadatropin-Releasing Hormone-Promoter Driven Cre Expressing Mice
Parker Cuthbert and Andrew Becker for Stimulation to Attentional Brain Networks Selectively Modifies Visual Task Performance
Malcolm Davis for A Voice to Be Heard: Understanding the Experiences of Lesbian, Gay, Bisexual, Transgender, and Queer+ People in STEM.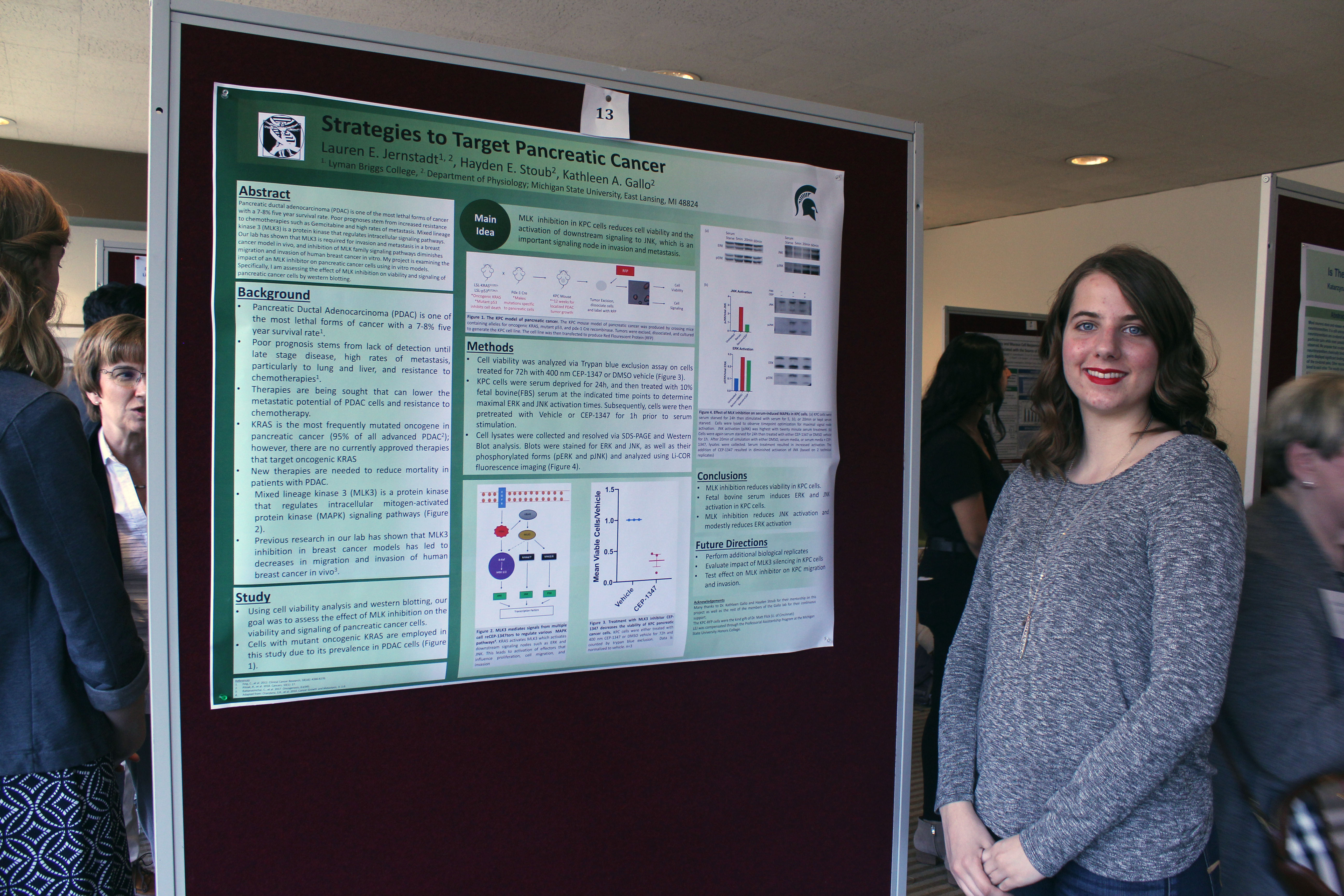 The MSUFCU Grand Prize was awarded to sophomore Lauren Jernstadt, for Strategies for Targeting Pancreatic Cancer. Jernstadt is a member of the Honors College and studies physiology on the pre-med track with a minor in bioethics. She conducts research in the Gallo Lab through the College of Natural Science's Department of Physiology.
For Jernstadt, cancer research was personal: both her maternal grandparents passed away from cancer: her grandmother had metastatic stage four breast cancer, and her grandfather had complications from stage three lung cancer.
She writes, "My current project in the Gallo Lab analyzes the role of the kinase MLK3 in pancreatic ductal adenocarcinoma, one of the most aggressive and deadly cancers, and it has been one of the most rewarding parts of my studies here at MSU.
Research has taught me how to further hone my critical thinking skills--something that is already pushed in our classes in Briggs--and it helps me understand how to pose good research questions from the answers we already have. MSU has made pursuing undergraduate research very rewarding already, and having Briggs alumni and emeriti faculty recognize my work is the cherry on top of an already phenomenal experience. I hope that by continuing cancer biology research that I can better prepare myself for medical school in two years, where I hope to walk out with a career in oncology."
LBC Research Symposium Poster Session Photos