LBC Alumna Laura Comilla Gives Commencement Address
May 6, 2019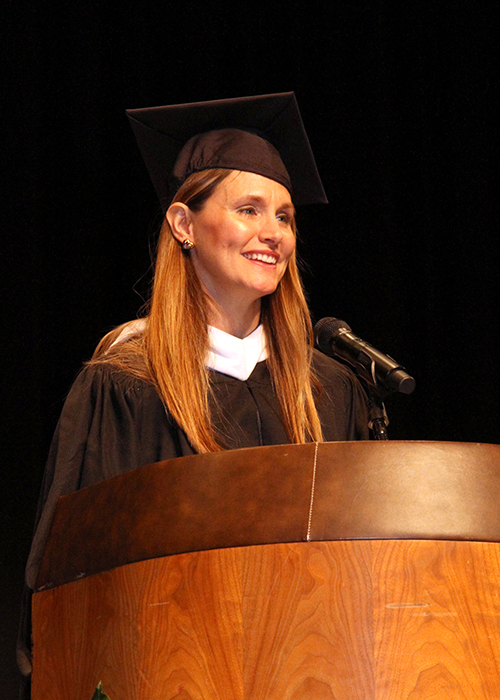 LBC alumna Laura Comilla returned to Michigan State University to speak at the Spring 2019 commencement. A 1997 graduate in biochemistry and biotechnology, as a Briggsie, Comilla worked as a teaching assistant for biology courses and a lab assistant in the Department of Entomology. Upon graduating, she received the Outstanding Senior Award (given to 25 seniors across the university) and the Lyman Briggs F.B. Dutton Award.

Currently Comilla is a managing consultant and director of commercial operations for the consulting firm LTS Health, a global leader in laboratory performance improvement. In this role, Laura has helped lead change and transformation in over 200 labs across the world, from HIV testing labs in rural Kenyan communities to advanced genomic labs at leading cancer centers. 

We asked this accomplished alumna what aspects of studying at Lyman Briggs impacted the course of her life. She reflected on the importance of writing skills that were developed in LBC courses, through scientific paper writing, projects, and essays. She writes, "When I reflect on what I do at work, I communicate from c-suite executives to entry level technologists. I routinely write and present business plans for senior management to evaluate my proposals on how to differentiate our company or enter a new market. Lyman Briggs did not make communicating (written or oral) an assignment. Communication was the culture and has served me well in my professional career." 

During her remarks at commencement, Comilla used her platform to recognize others who had helped her along the way. She said, "When I look at my collegiate and professional successes, it never ceases to amaze to that it has never been done alone, I 've always had a mentor." In the audience was one of her lifelong mentors, the former chair of the MSU Department of Entomology, Dr. Mark Scriber. She shared that Dr. Scriber helped find outlets for Comilla's interests in leading projects, publishing, and presenting research when she was lab assistant in the department. 

Comilla acknowledged the accomplished and talented Class of 2019, their promising career trajectories, and their likelihood of winning awards. She said when she was on her way to receive an award, her father, in a mentoring moment, had impressed upon her the acronym TOUT, which highlights both the individual, and the people and environment that contribute to success. TOUT stands for: 
T: Thank you: Express gratitude for the award.
O: Others: Mention the other people who played a part in getting you to that place
U: Uses: Say how this award or honor will propel you forward
T: Thank you again.
In her address, she interwove stories of her professional travels to Africa, connecting to and being impacted by people, and finding deep meaning in that. She said to the graduates, "Measure the success of your career based on the people who have had an impact on you."

Last, she shared a mentor's advice to have a stance of humility and curiosity, seeking to understand, rather than simply sharing one's own knowledge or perspective. She said of her professional travels to Rwanda, "That afternoon, I was presenting to the Rwandan Ministry of Health. My mentor's advice came to mind, 'be interested, not interesting.' So instead of positioning the medical devices that we had, how they could aid Rwandans in the capacity to grow their Tuberculosis and HIV testing, or how we could save them money—I instead was compelled to ask questions. How would a national reference laboratory help you grow medical tourism? How would it help you with jobs? By being interested vs. interesting, I found the meaning, not only of my job, but of my career."

We are grateful to Ms. Comilla for her advice and her gracious recognition of others in her life. Watch her remarks in the 2019 LBC Spring Commencement video posted on the WKAR website. 
Image courtesy of Graduation Foto