Curiosity drives Briggs undergraduate researchers to study NASCAR driver performance with Dr. David Ferguson
November 3, 2023 - Blythe White
Rumbling, roaring, powerful engines. A rush of wind driven by momentum. Heat. Devoted, cheering fans. The scent of burning rubber and super high-octane gasoline. A blur of colors, numbers, and logos that are visible for a moment then disappear. Waving flags, signs, and intensely focused teams of professionals in fire suits, ready at a moment's notice to tend to vehicles and emergencies. Adrenaline, excitement, and the drama of passing and crashing.
A NASCAR racetrack is full of these visceral sensations. What you might not expect is that it is also a place of exercise-physiology research centered at MSU. Briggs seniors Aidan Davis and Sara Xhaja are research assistants with the Spartan Motorsport Performance Lab (SMPL), led by Dr. David Ferguson, associate professor of kinesiology in the MSU College of Education.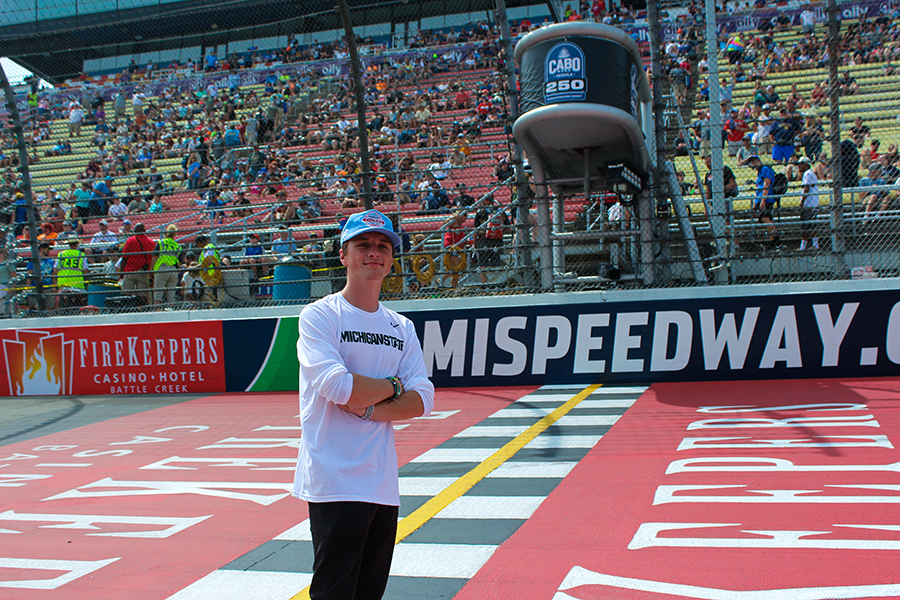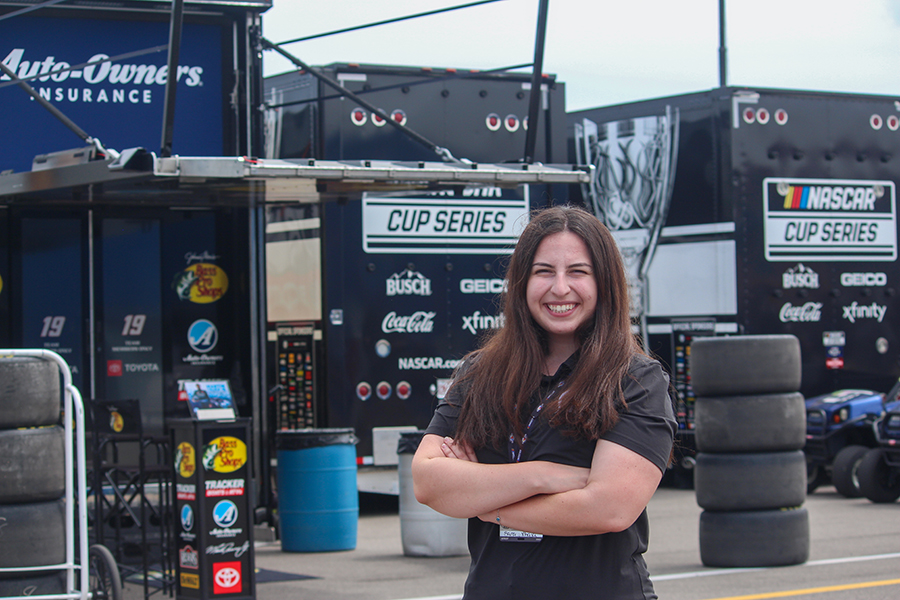 During the 2023 NASCAR season, which spans from February to November each year, Dr. Ferguson and his research team of graduate and undergraduate students conducted heat exhaustion research, collecting biometric data from a number of drivers at 22 of the races in the Xfinity and Cup Series leagues. The
Physiological Responses to Driving a Race Car
grant, with principal investigators Ferguson and Dr. Michael Reid, professor of applied physiology & kinesiology at the University of Florida, was the
first ever exercise physiology academic grant
awarded by NASCAR.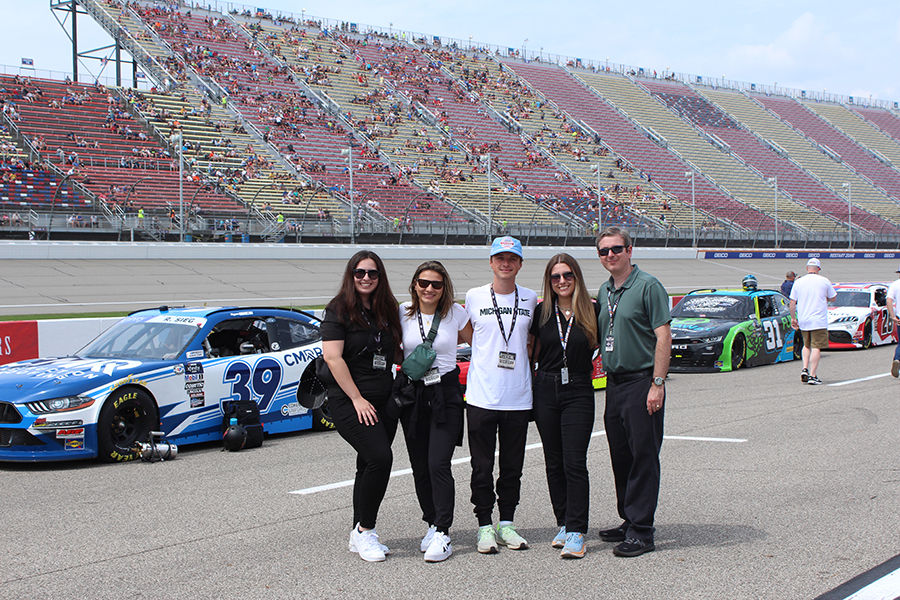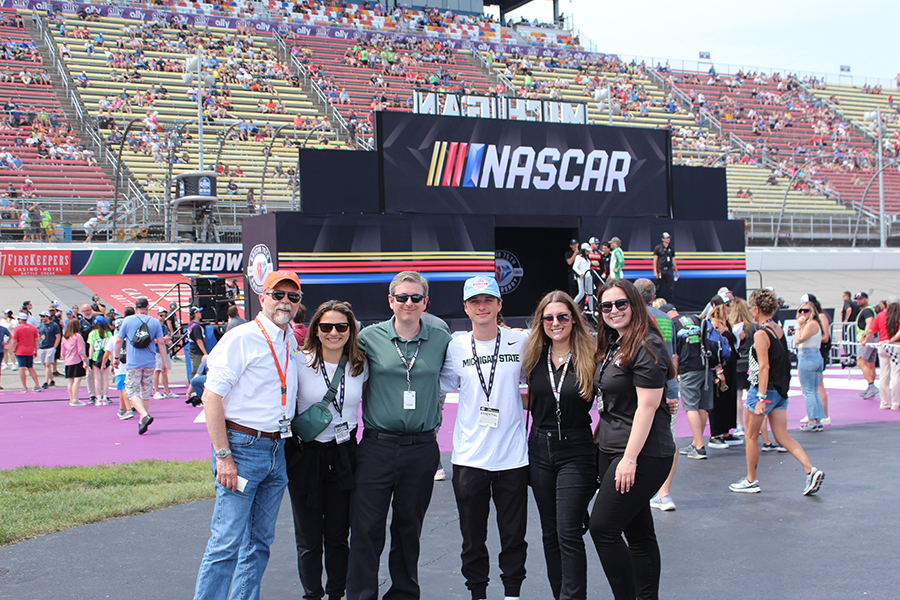 But how did Davis and Xhaja get to be members of the team for "in the field" biometrics data collection on the track?  
 
Davis, originally from Farmington Hills, Michigan, grew up going to motorsport races with his dad. They saw NASCAR at the Michigan International Speedway, IndyCar at the Detroit Grand Prix, and even Formula 1 in Montreal, Canada. He loves the smell of race fuel, the sounds of the different engines (with ear plugs to mitigate the risk of hearing loss, of course), and the exciting sensory environment. 
 
In Briggs, Davis is majoring in human biology and minoring in entrepreneurship and innovation. A scholar in the Osteopathic Medical Scholars Program on the premedical track, he is also a member of the Honors College.  

When he was searching for crucial pre-med experiences in Fall 2021, undergraduate research was heavily promoted. But Davis was not finding positions in labs he could be passionate about and knew he would not be motivated to do his best work if he was not excited about it. One day, he started looking into publications in topics he was more curious about: motorsports and medicine, and noticed a prominent author, Dr. David Ferguson, was considered the leading researcher in motorsport physiology. Following that trail, he discovered that Ferguson was an associate professor at MSU and contacted him shortly thereafter. 
 
Xhaja followed a similar road to the Spartan Motorsport Performance Lab. She is a human biology major in Briggs, on the premedical track, minoring in Spanish. She served as an emergency medicine scribe at Sparrow Hospital and will graduating in December. 
 
Xhaja had also recognized the importance of gaining key learning experiences in her career as a pre-med student. She began looking for undergraduate research opportunities during her sophomore year, attending workshops by the Office of Undergraduate Research and sending many email inquiries to labs across campus. After receiving discouraging responses, she branched out to find projects that she could be passionate about. A lifelong fan of motorsport and racing, she reached out to Dr. Ferguson in the Spartan Motorsport Performance Lab. He invited her to one of the weekly lab meetings. She said, "From then on, I never stopped attending."   
 
Working on the SMPL research team has provided opportunities for Davis and Xhaja to network and develop a rapport with motorsports medical professionals, race teams, drivers, and other researchers. These connections have been invaluable to both students. The unique research setting of the racetrack has been surreal for the two lifelong motorsports fans. Xhaja said, "In most research settings, theories are confined to the controlled settings inside of a lab, but what makes this work so interesting is the opportunity to see theories come to life on the racetrack, in places I once only watched on TV." 
 
For both Xhaja and Davis, the research experience in the SMPL has given a clearer path toward their career goals. 
 
Xhaja said, "My involvement in this research has unveiled an exciting career path I never knew existed prior to joining this lab. The ability to connect with motorsport athletes across various series and forging relationships with established physicians in the motorsport medicine field has broadened my horizons, allowing me to envision a future where I can merge my two passions - medicine and motorsport." Xhaja will be applying to medical school this upcoming cycle with plans to pursue emergency medicine and eventually motorsport medicine.  
 
Davis said, "Dr. Ferguson and the Spartan Motorsport Performance Lab have helped me get closer to achieving my dream of becoming the chief medical officer of a prestigious racing series. Making connections and working alongside medical professionals within the world of motorsport has only made me more excited to pursue a career in motorsport medicine. Branching out and working on the NTT IndyCar Detroit Grand Prix medical team with Detroit Medical Center's staff is a prime example of how SMPL has helped me make connections in motorsport medicine." Davis will begin medical school this summer as a member of the MSU College of Osteopathic Medicine Class of 2028, and has plans to pursue emergency medicine. After medical school, he would love to complete the motorsport medicine fellowship at the Indiana University School of Medicine. 
 
Dr. Ferguson writes, "Students from any background are welcome to join the lab. When I started in this field 15 years ago, I encountered a lot of closed doors due to the secrecy in motorsports. For this reason, I try to respond to every email from interested students and invite them to a lab meeting. I have been very fortunate to work with some amazing students over the past eight years at MSU. The current student members of the lab are the primary reason the NASCAR project was a success. There were several daunting challenges that arose during the project, and I do not know how I would have completed it if it wasn't for the students. I am eternally grateful to them."  
 
The Cup Series Championship is this Sunday, November 5. Four racers will compete in Phoenix, and the winner takes all in the top league of NASCAR. We'll be watching, not just for the excitement, but also because the Spartan research connections make it even more compelling.