Briggs undergrad researcher wins award at premier international conference
October 29, 2019
For LBC senior Hasaan Hayat, a Briggs senior with dual majors in neuroscience and human biology, the opportunity to work in a cutting-edge laboratory as an undergraduate researcher both confirmed his interests in technology and medicine, and helped illuminate his career path.
For about a year, Hasaan has been contributing to research in the lab of Ping Wang, who is affiliated with MSU's Precision Health Program, a newly established program led by Anna Moore. Precision medicine, a component of the Precision Health Program, is a fairly recent field of biomedicine. This field develops personalized, patient-specific therapies and treatments, often incorporating tools like molecular imaging, nanoparticle technology and artificial intelligence to produce better outcomes for patients. Through research like that of Wang and Moore, tools and technologies can be developed to detect disease sooner and treat it earlier, achieving better outcomes and reducing healthcare costs. The Precision Health Program at MSU aims to transform the approach to healthcare from reactive to proactive, and focuses on prediction of disease, prevention, and early detection.
Hasaan has been interested in technology and human biology for as long as he can remember. After he joined the Wang Lab, he became especially intrigued by the use of artificial intelligence in the field of precision medicine. He says, "As a child, I only dreamed of working on such technology myself due to its complexity and mass potential, but I also feared it, thanks to dystopian films such as Terminator and IRobot where the sentient machine is always portrayed as the 'bad' guy. However, I find that AI can be a crucial, beneficial tool for analysis and monitoring of patients in a more modern field of medicine, specifically in oncology, radiology, and stem-cell transplants."
Researching in Wang's lab in Precision Health Program has provided Hasaan a unique platform to investigate the intersection of technology and biology. One specific study involved the application of deep learning in non-invasive imaging for monitoring tumor response to chemotherapy. With help from Wang and Moore, Hasaan put together an abstract of his work, entitled, "Molecular imaging and analysis of uMUC1 expression levels in response to chemotherapy in an orthotopic murine model of ovarian cancer," and submitted it to the World Molecular Imaging Congress 2019 (WMIC 2019) in Montreal, Canada. The WMIC 2019 program committee invited Hasaan to present this research as an oral presentation, which is a high honor for the attendees. Hasaan's paper was one of the highest-rated abstracts at the conference and he won the Student Travel Award.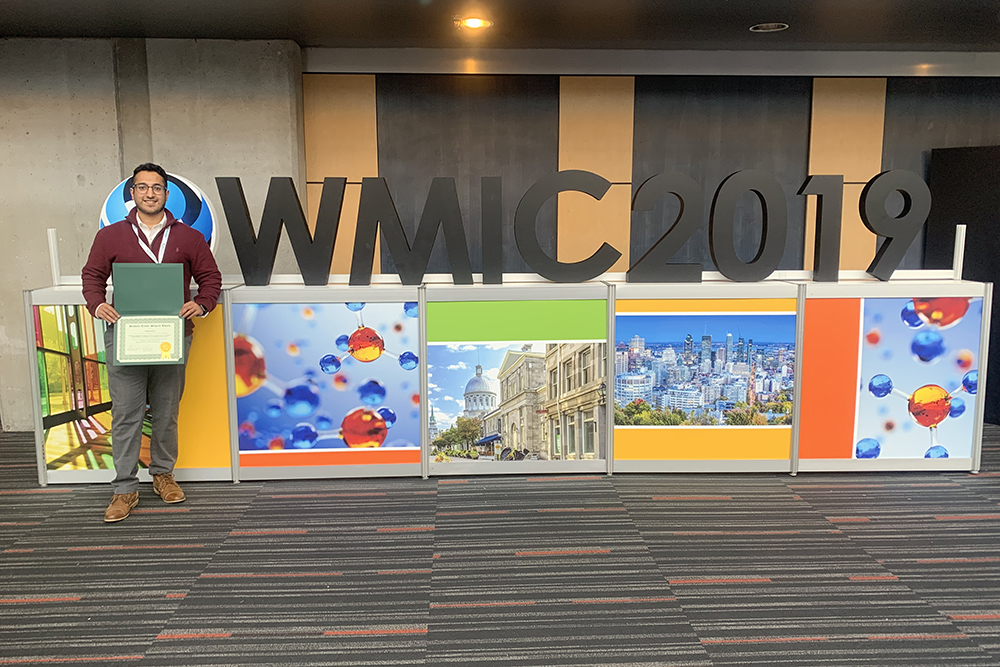 Hasaan was grateful and energized by the experience of presenting at an international research conference. "The congress was phenomenal. I was able to hear about some amazing research and innovations in the field of medicine and molecular imaging/biology. Networking with knowledgeable individuals from top institutions all over the world was a highlight of the event, and I am thankful to PHP and MSU for this opportunity."
Hasaan was originally drawn to MSU for its many research opportunities, and specifically to Lyman Briggs College, because of its solid foundations in science. He writes, "I admire Lyman Briggs for its creative and innovative approach to STEM fields, and its focus on preparing students for success in graduate school. The faculty at Lyman Briggs are very supportive and ensure that students have a clear understanding of core scientific concepts."
As for the future, his work with the Precision Health Program is inspiring him to go to medical school. He writes, "I aim to pursue an M.D.-Ph.D. after I graduate, a decision that has been heavily reinforced by the research I am doing at the Precision Health Program, and my mentor and PI, Dr. Wang, who himself is an M.D.-Ph.D. I salute the cutting-edge work that is performed here. In the future, it is a dream and vision of mine to bring novel, innovative therapies and technologies such as AI and nanomedicine to the clinic in order to provide tools for physicians to use and to improve patient outcomes."