Briggs Kindness Project brings alumni messages to graduating Class of 2020
April 29, 2020 - Sarah Dickinson, LBC Alumni and Donor Relations Coordinator
As universities across the nation postponed or cancelled in-person spring commencement ceremonies, MSU was no exception.
Yet Lyman Briggs alumni did not let that stop them from communicating how proud they were of the Class of 2020. The LBC Engagement Office reached out to alumni to see if they would be interested in writing personal messages to graduating seniors, calling it our Briggs Kindness Project.
We were blown away with the response! Although the Class of 2020 will not be physically walking across the stage in May, their accomplishments are still momentous. Diann Krywko, one of our alumnae, wrote, "Your accomplishments are made no less grand by the absence of a ceremony. The grandeur is in the past years of hard work." We are so proud of our seniors and wish them the very best as they venture out into the world.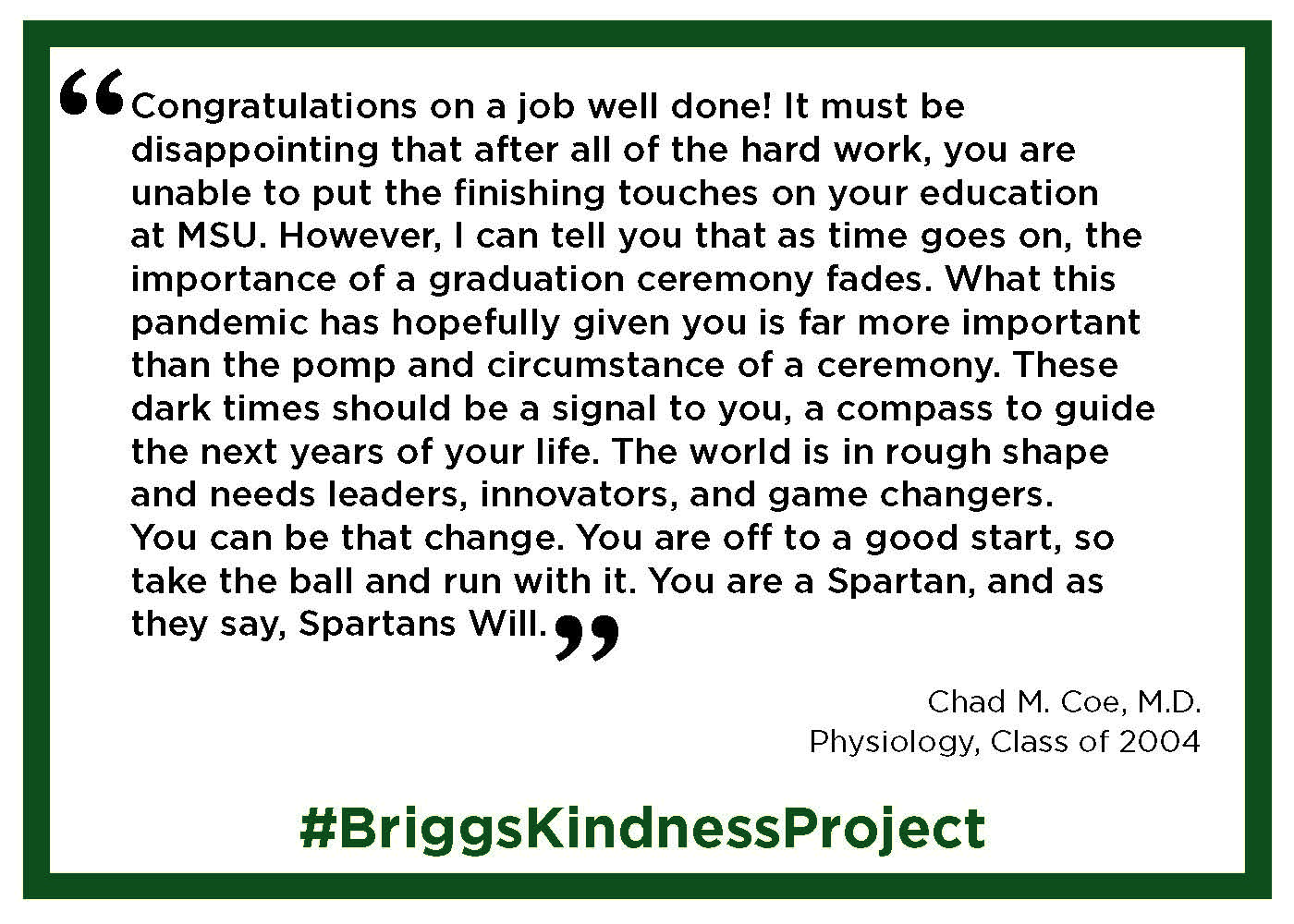 If you are a new graduate reading this right now, you will have received a message from a Lyman Briggs alum to communicate that although this is not the ending you had anticipated, you are now part of the global family of Briggsie Spartans.
Nothing will take away the accomplishments and memories you have made during your time at Lyman Briggs College. Your achievements are not unnoticed and we know you will continue to do amazing things in the future.
We hope that these messages from alum who were once in your shoes, inspire and encourage you to get out there and change the world. And always remember you've got a whole community of Briggs alumni who are rooting for you! This is just the beginning.
Go Green!