Meet Nikita Nel, a remarkable Briggsie who is also a member of the 2023 Homecoming Court
September 21, 2023 - Tiffany Werner
2023 MSU Homecoming Court member Nikita Nel, from Toledo, Ohio, is a Lyman Briggs senior and a member of the Honors College. She is majoring in biochemistry and molecular biology/biotechnology and minoring in bioethics.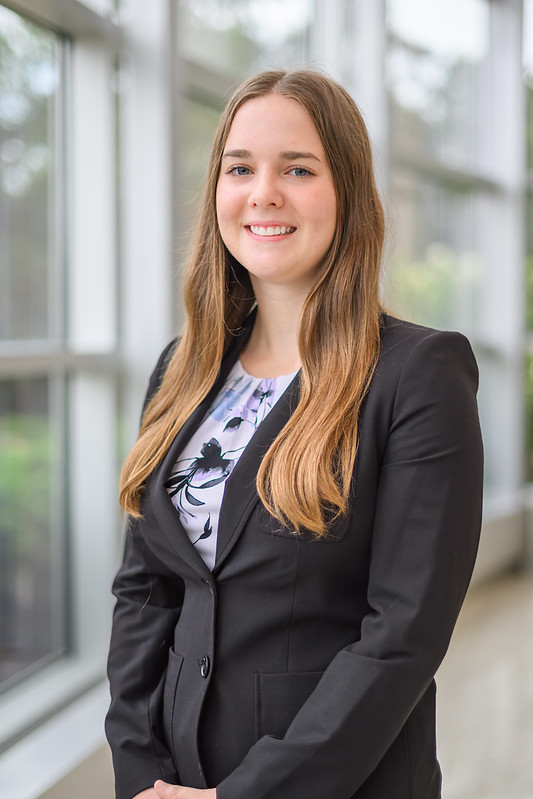 Being selected to represent Michigan State University on the Homecoming Court is considered one of the highest honors for MSU seniors. As a member of the Court, Nikita has many responsibilities, including attending MSU Alumni Office events and the President's Homecoming Reception, and taking part in the Homecoming Parade. 
When she first toured MSU, Nikita noticed the passion each student had for the university. She has since found the same passion within herself, as she has had unique experiences through her academic career in college.
Being a first-generation immigrant from South Africa, Nikita was drawn to the abundance of extracurricular programs and clubs offered at MSU which would allow her to meet students from diverse backgrounds. Nikita serves as the president of MSU MEDLIFE, an organization that promotes fundraising, awareness, and service abroad to help aid impoverished families in the Greater Lansing area. The group volunteers monthly in collaboration with the Greater Lansing Food Bank and works with the MSU College of Osteopathic Medicine to further educate students in making a difference in their communities.
This past spring, Nikita had the opportunity to study abroad in Costa Rica with the MSU Institute for Global Health. On the trip, she was able to explore the country's universal healthcare system, shadow physicians, and further her understanding of global health issues. She was also given the opportunity to spend a day with the medical shaman of the Quitirrisí indigenous tribe, allowing her a special look at traditional medicine.
Research has been an important part of Nikita's MSU experience. She has served as both an undergraduate researcher and a research ambassador. As an undergraduate researcher, Nikita has studied the relationship between socioeconomics, environmental factors and human health, synthesizing research to examine the impact of culture on health. She feels honored to be a part of MSU's research and to provide mentorship to fellow students. Nikita also looks forward to the Lyman Briggs Research Symposium each spring, as she enjoys learning about other research being done on campus and how that research impacts the greater scientific community.
Nikita greatly values the community she has found here at MSU, crediting the compassionate and supportive Spartan and Briggs community. She is grateful for the friends she has met along the way and the mentors she has gained. She is especially inspired by alumni and their career-related achievements post-graduation. Taking advantage of MSU's resources has been highly beneficial to Nikita's college experience and she suggests that her peers do the same.