Dr. Vashti Sawtelle Receives Michigan Distinguished Professor of the Year Award
April 12, 2022
Dr. Vashti Sawtelle, associate professor of physics in Lyman Briggs College and the MSU Department of Physics and Astronomy, was one of three professors selected for the 2022 Michigan Distinguished Professor of the Year Award from the Michigan Association of State Universities, which represents Michigan's 15 public universities.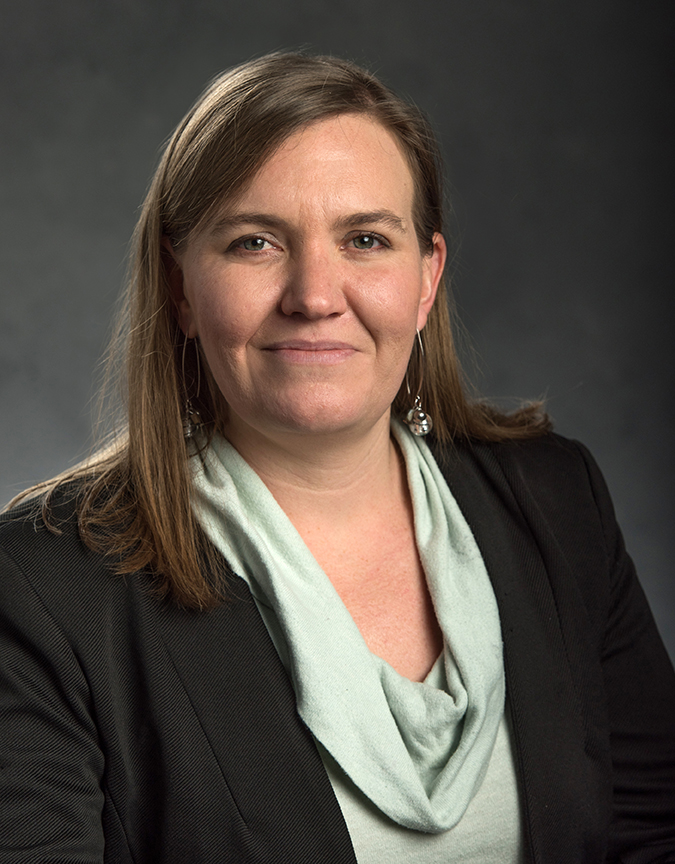 The Michigan Distinguished Professor of the Year Award recognizes the outstanding contributions and dedication exhibited by the faculty from Michigan's 15 public universities to the education of undergraduate students. Each university was invited to nominate a faculty member who has had a significant impact on undergraduate student learning through various activities, particularly classroom instruction, applied research, experiential learning, innovation, and mentoring.  
The 2022 recipients are Dr. Sandra M. Gonzales of Wayne State University, Dr. Carl Lee of Central Michigan University, and Dr. Vashti Sawtelle of Michigan State University.  
"These nominees continue to bring new scholarship and innovation in teaching and learning to Michigan's public universities," said Dr. Daniel J. Hurley, CEO of the Michigan Association of State Universities. "These professors have the highest dedication to their students, ensuring that they are well prepared to make a meaningful impact in their careers and in their communities."

Dr. Sawtelle has been an MSU faculty member since 2014. She's co-director of the Physics Education Research Lab in the Department of Physics and Astronomy in the College of Natural Science. Sawtelle is known by students and peers for her inclusive teaching practices and student engagement in the Lyman Briggs College (LBC or Briggs), MSU's residential college for studying STEM in societal and global contexts.  
She earned her B.A. in physics from Grinnell College and her Ph.D. in physics from Florida International University. She received the MSU Teacher-Scholar Award in 2018, and MSU's STEM Gateway Fellows Award in 2016-17. Her research into inclusive education has also earned her MSU's Spirit of Mobility Award in 2019.  
Sawtelle's research and teaching combine to focus on improving the teaching of physics to students of all identities. She earned the opportunity early in her career to redesign introductory calculus-based physics classes and has focused on improving teaching for non-majors. She actively incorporates inclusive teaching strategies and is increasingly centering equity into her physics classes. In 2017, she co-wrote a lesson plan for teaching about racial equity in physics that was subsequently published in The Physics Teacher. Her research of physics undergraduate education provides new understanding of inclusivity to make sure all students can succeed in the sciences.  
One of Sawtelle's primary achievements is the creation of the Briggs Life Science Studio (BLiSS) Physics course. This is an experimentally driven studio class that engages students in learning by doing. It allows students to gain understanding of core physics concepts by hands-on exploration followed by group discussion. Her successes in LBC have shaped the transformation of the Department of Physics' introductory physics curriculum as they adopt a similar studio model. Furthermore, Sawtelle has become a sought-after speaker by departments that want to change instruction to better meet their own student needs.  
Sawtelle's efforts to improve the outcomes for students goes well beyond MSU and the physics undergraduate education community. Her research on the experiences of junior college transfer students to four-year institutions is helping break down barriers for these students, providing another example of her positive impact. Over the past five years, Sawtelle has also conducted workshops on race, ethnicity, and equity in physics at the American Association of Physics Teachers national meetings. These workshops facilitate her sharing insights and resources that she has developed with physics instructors in both high school and college settings.  
"We are proud of Dr. Sawtelle's many achievements and are so pleased that she's being recognized with the Michigan Distinguished Teacher Award," said Kendra Spence Cheruvelil, dean of Lyman Briggs College. "She's been instrumental in transforming how physics is taught, which in turn increases student learning and their sense of belonging in the sciences." 
"Her innovative approach to teaching physics in Lyman Briggs College is grounded in engaging experiential learning opportunities that include a deliberate focus on foregrounding the relevance of physics across a broad range of bioscience contexts," said Teresa K. Woodruff, Michigan State University Provost and Executive Vice President for Academic Affairs. "Her contributions and expertise are assets to MSU, to the field of physics and physics education, and to higher education writ large."  
Edited and repurposed from April 11, 2022 press release by the Michigan Association of State Universities