Provost recommends Kendra Spence Cheruvelil to be dean of Lyman Briggs College
February 3, 2022 - Blythe White
MSU Provost Teresa K. Woodruff, Ph.D. has recommended Kendra Spence Cheruvelil to be the next dean of Lyman Briggs College, effective February 11, 2022. This recommendation is subject to approval by the MSU Board of Trustees. Cheruvelil has served as interim dean in the college since December 2020.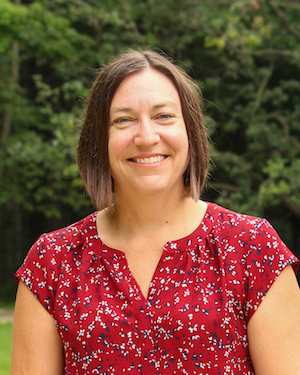 Cheruvelil is a highly respected professor and internationally recognized research scientist in Lyman Briggs College (LBC) MSU's residential college in the sciences, and the Department of Fisheries and Wildlife. She was awarded the William J. Beal Outstanding Faculty Award in 2021 and the Teacher-Scholar Award in 2012. Prior to serving as LBC interim dean, she served as associate dean of research and faculty affairs from 2017-2019, and as special advisor for faculty affairs and belonging in the College of Agriculture and Natural Resources in fall of 2020. She serves on the steering committees for the University Future Academic Scholars in Teaching program and the Center for Interdisciplinarity, and was the founding director of the Scholarship of Undergraduate Teaching and Learning program, a collaboration between Lyman Briggs College and the Graduate School. Currently a member of the first-ever cohort of the Big Ten Academic Alliance Deans Leadership Program, Cheruvelil has extensive leadership training, including the HERS Leadership Institute in 2017 and the Big Ten Academic Alliance Academic Leadership Program in 2018-2019.
 
"During her service as interim dean over the past year, Dr. Cheruvelil has demonstrated her leadership strengths and abilities, paired with commitments to supporting student success and advancing LBC's unique mission," said MSU Provost Teresa K. Woodruff, Ph.D. "I am grateful to the Lyman Briggs Advisory Council members and the entire college for their thoughtful, deliberative, and collaborative process in identifying an extraordinary leader for the college. With incoming Dean Cheruvelil, I look forward to a bright future for the college, its community of scientific inquiry, and all that LBC will contribute to Michigan State University – and LBC graduates to the world."
 
Cheruvelil conducts NSF-funded big-data ecology research to better understand the factors driving lake health in the U.S. She is co-director of the Data Intensive Landscape Limnology Lab, director of the MSU Institute for Biodiversity, Ecology, Evolution, and Macrosystems (IBEEM), and a fellow of the Association for the Sciences of Limnology and Oceanography. She also conducts research investigating how an inclusive climate promotes diversity, equity, and inclusion in STEM, including the multi-institutional, interdisciplinary NSF-funded CLIMBS-UP project examining the effect of inclusivity on STEM graduate students, postdocs, and faculty.
 
"I am honored to be named dean of the Lyman Briggs College, which I have been part of for almost 16 years," said Cheruvelil. "I continue to be energized by the college's commitment to supporting students in their professional growth as scientists in our small, liberal-arts-college environment. We center diversity and inclusion in the sciences and engage with the sciences in their contemporary and historical, social, and global contexts, empowering our students to be leaders. LBC's future is bright, with strong partnerships throughout the university, engaged alumni supporting our students and programs, and innovative and award-winning teaching."
 
Cheruvelil holds a bachelor's degree in ecology and evolutionary biology with a minor in statistics from the University of Rochester. She received both her master's degree in fisheries and wildlife and her dual doctorate in fisheries and wildlife, and ecology, evolution, and behavior, from Michigan State University. Cheruvelil was a faculty member in the Purdue University system before joining MSU as a faculty member in 2006.
---
This story was originally posted on the MSUToday website.