Claybourne Petrey
Fund Donor: R. Claybourne Petrey

LBC Attendee

Claybourne Petrey STEM Scholarship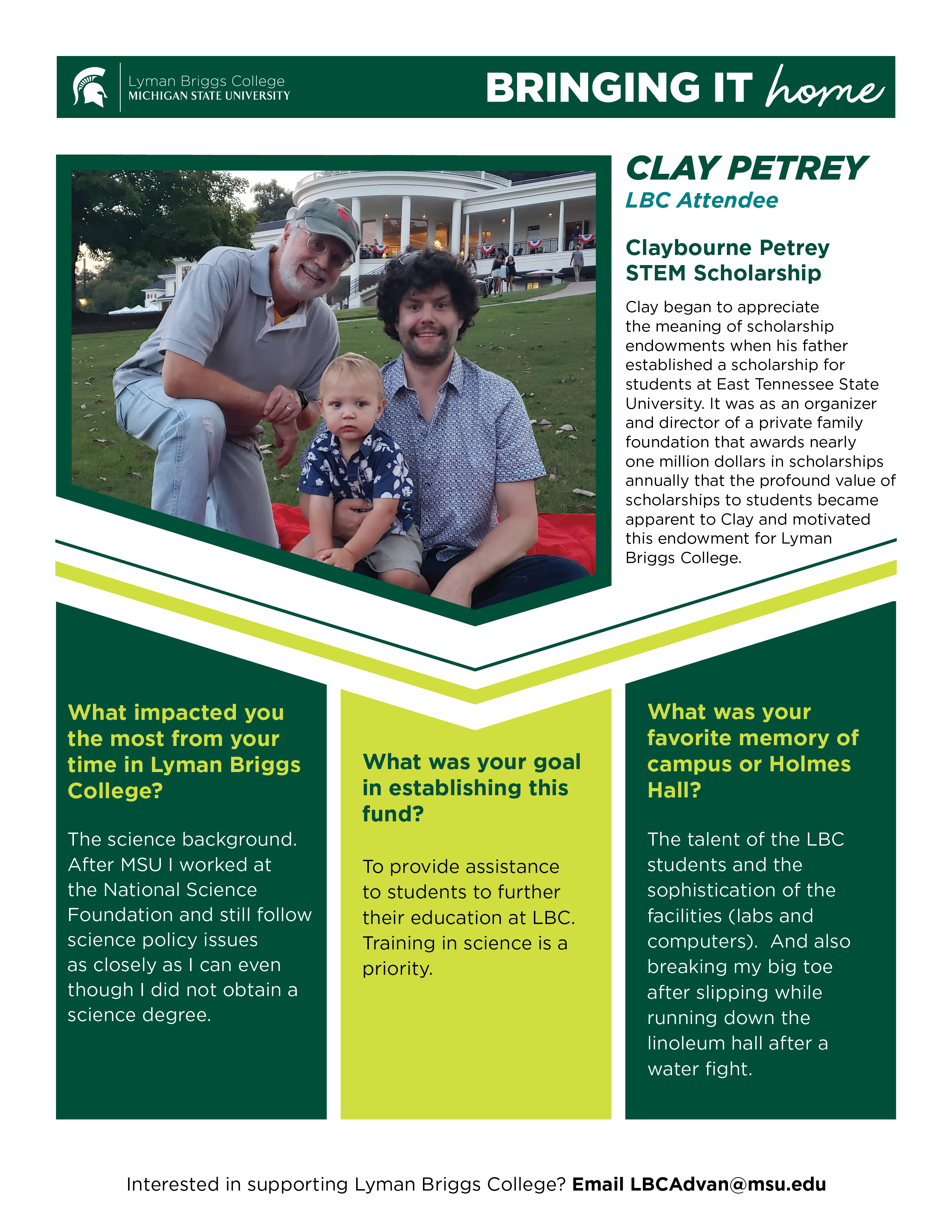 Accessible poster PDF (opens in new window)
Fund Description
Claybourne Petrey STEM Scholarship

About the Scholarship

Claybourne Petrey was raised in an environment of engineering and manufacturing. He initially enrolled in Lyman Briggs College but ended up earning his bachelor of science degree elsewhere in the university. He did not lose track of a STEM career, having jobs as a computer systems analyst and a research associate at the National Science Foundation before pursuing his legal career. Clay began to appreciate the meaning of scholarship endowments when his father established a scholarship for students at East Tennessee State University. It was as an organizer and director of a private family foundation that awards nearly one million dollars in scholarships annually that the profound value of scholarships to students became apparent to Clay and motivated this endowment for Lyman Briggs College.
I want to promote this important type of interdisciplinary curriculum to train balanced scientists who better understand the role of science in society.
A Conversation with the Donor
What was your goal in establishing this fund?
To provide assistance to students to further their education at LBC. Training in science is a priority.

What impacted you the most from your time in Lyman Briggs College?
The science background. After MSU I worked at the National Science Foundation and still follow science policy issues as closely as I can even though I did not obtain a [hard] science degree.

What do you think will be a major research breakthrough in the next decade?
Amazing immunotherapies for cancer treatment.

What was your favorite memory of campus or Holmes Hall?
The talent of the LBC students and the sophistication of the facilities (labs and computers). And also breaking my big toe after slipping while running down the linoleum hall after a water fight.

Who is someone who inspires you?
Former President Jimmy Carter

What was something you never expected as an alum of MSU?
The extent of the alumni network.

Why is giving back to LBC important to you? What would you say to a classmate who is considering a gift of their own?
I want to promote this important type of interdisciplinary curriculum to train balanced scientists who better understand the role of science in society. I would say to a prospect that this program is the best of both worlds and a strong foundation for any career. I ended up with a 35 year career in law.

What is your favorite book?
Jane Jacobs, The Life and Death of Great American Cities, actually a required reading for a class at MSU.

What is something you like to do in your free time?
Tennis. Walk. Read.

What is the coolest gadget that you love to use?
The winged cork screw.

What is your ideal weekend afternoon?
Tennis. Lunch. Nap. In that order.

What is your favorite food?
Fried chicken (I live in Nashville, home to hot chicken).

What is something that is on your bucket list?
Ride the Staten Island Ferry.

What is your favorite song?
"Ants Marching" by Dave Mathews Band

What do you think is the world's worst invention?
The atomic bomb

What do you think is the world's best invention?
The wheel.

What is the most surprising talent you have?
Ha. I have no talent, certainly none that is surprising. I cannot sing, keep rhythm or touch a basketball rim.

Where was the coolest place you have traveled?
Yosemite National Park

Someplace you would like to travel once COVID is in the past?
Vietnam