Michael Grebner
Fund Donor: Michael Grebner
Class of 1972
Grebner Family Fund to Support Inclusivity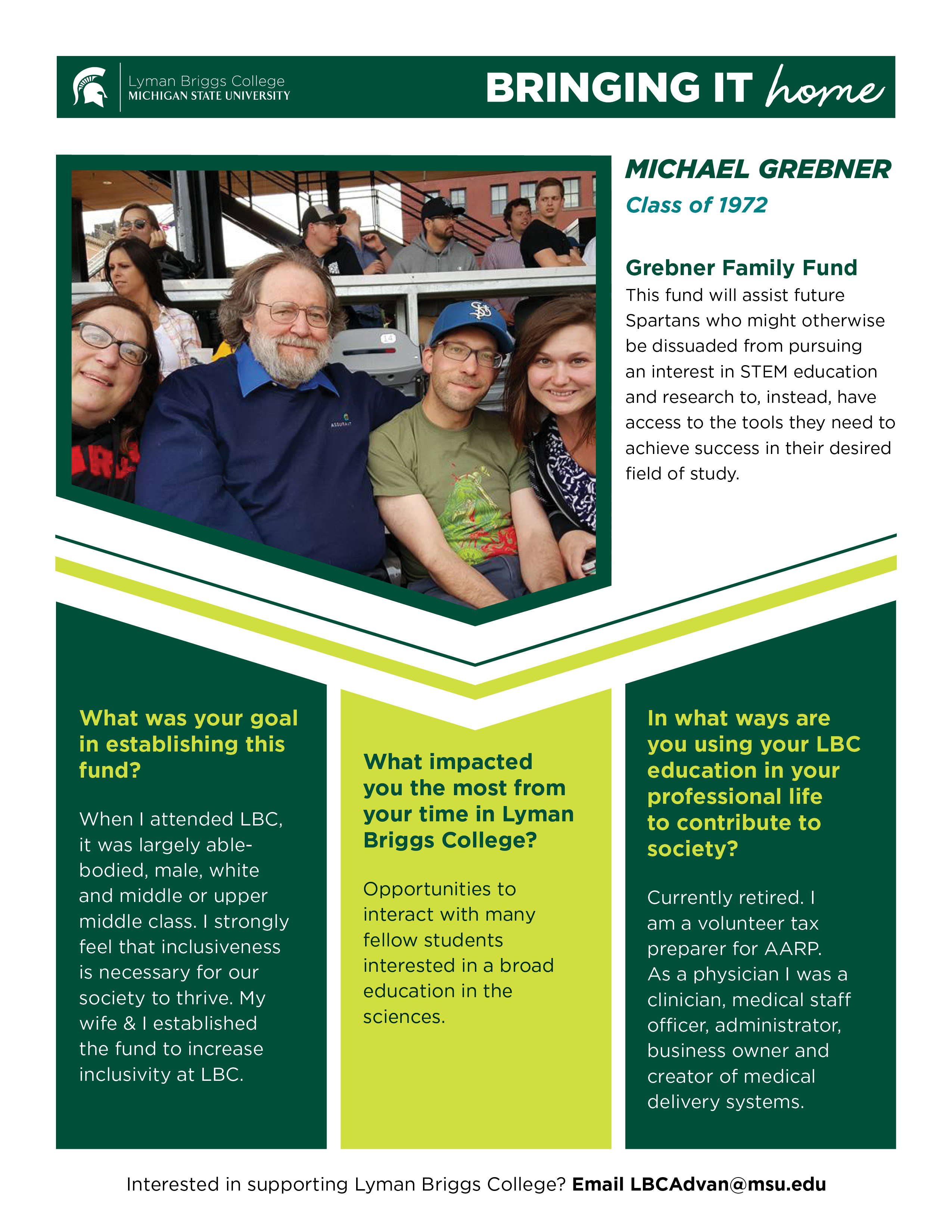 Accessible poster PDF (opens in new window)
Fund Description
Grebner Family Fund to Support Inclusivity

About the Fund

Mike Grebner earned his undergraduate degree through Lyman Briggs College in 1972 and then completed his MD training at Michigan State in 1976. After a residency in family medicine near Chicago, he and his wife Joanne moved to Jackson, Michigan where he began a private practice and became active in the care of under-served populations including persons with physical and cognitive disabilities, chronic mental illness, substance abuse, women with teen pregnancy, and children in the foster care system. After leaving private practice in 1991, he and his family moved to Milwaukee where his positions included being a staff physician for a health maintenance organization, regional medical director of a nonprofit multinational organization providing residential services for developmentally disabled children and adults, medical director of a large urban jail health system, and a medical director for a health insurance company. Joanne earned her degree in occupational therapy at the University of Wisconsin and her master's degree in vocational rehabilitation counseling at Michigan State. She has worked as a staff member at MSU at the University Center for International Rehabilitation and in a variety of other settings including Ingham Intermediate School District, inpatient medical and psychiatric facilities, and as program manager for an inpatient rehabilitation unit. Mike and Joanne have established this endowed fund because they are convinced that the world requires well-trained professionals in the sciences, technology engineering and mathematics if the problems of the present and the future are to be successfully addressed. They are also convinced that the potential for success in these areas of endeavor is broadly distributed across the population while access to opportunity has frequently been more limited. They hope this endowed fund will assist future Spartans who might otherwise be dissuaded from pursuing an interest in STEM education and research to, instead, have access to the tools they need to achieve success in their desired field of study.
When I attended LBC, it was largely able-bodied male, white, and middle or upper middle class. I strongly feel that inclusiveness is necessary for our society to thrive. My wife & I established the fund to increase inclusivity at LBC.
A Conversation with the Donor
What was your goal in establishing this fund?
When I attended LBC, it was largely able bodied male, white + middle or upper middle class. I strongly feel that inclusiveness is necessary for our society to thrive. My wife & I established the fund to increase inclusivity at LBC
What impacted you the most from your time in Lyman Briggs College?
Opportunities to interact with many fellow students interested in a broad education in the sciences.
In what ways are you using your LBC education in your professional life to contribute to society?
Currently retired. I am a volunteer tax preparer for AARP. As a physician I was a clinician, medical staff officer, administrator, business owner and creator of medical delivery systems
What do you think will be a major research breakthrough in the next decade?
Implementation of tech to ameliorate climate changes
What was your favorite memory of campus or Holmes Hall?
Living in West Holmes in an all male floor "on the girls side". How times have changed!
Who is someone that inspires you?
My sons, Jonathan & Benjamin.
What was something you never expected as an alum of MSU?
The failure of MSU to recognize and forthrightly address widespread sexual abuse of many young women by faculty and staff, as well as the failure to establish basic policies & procedures to idenify abusers and remove them from positions of authority.
Why is giving back to LBC important to you? What would you say to a classmate who is considering a gift of their own?
I have accepted two ideas as fundamental to my life:
Do well by doing good.
Pay it forward.
What is your favorite book?
Patrick O'Brien's series of Albrey + Maturin novels.

What is something you like to do in your free time?
Read

What is the coolest gadget that you love to use?
My Kindle

What is your ideal Saturday afternoon?
Combination of time spent with family, reading, sailing & walking or riding my tricycle.

What is your favorite food?
Chicken curry or lasagna that I've made myself

What is something that is on your bucket list?
Becoming immortal - like Hamilton I want to be "in the world when it happens"

What is your favorite song?
"You'll Never Walk Alone" from Carousel

What do you think is the world's worst invention?
The gasoline internal combustion engine

What do you think is the world's best invention?
The printing press.

What is the most surprising talent you have?
When younger I was pretty good at swimming underwater

Where was the coolest place you have traveled?
Machu Picchu

Someplace you would like to travel once COVID is in the past?
A cruise on the Columbia River.