David Copp
Fund Donor: David Copp

LBC Class of 1979
David A. & Diana L. Copp LBC Scholarship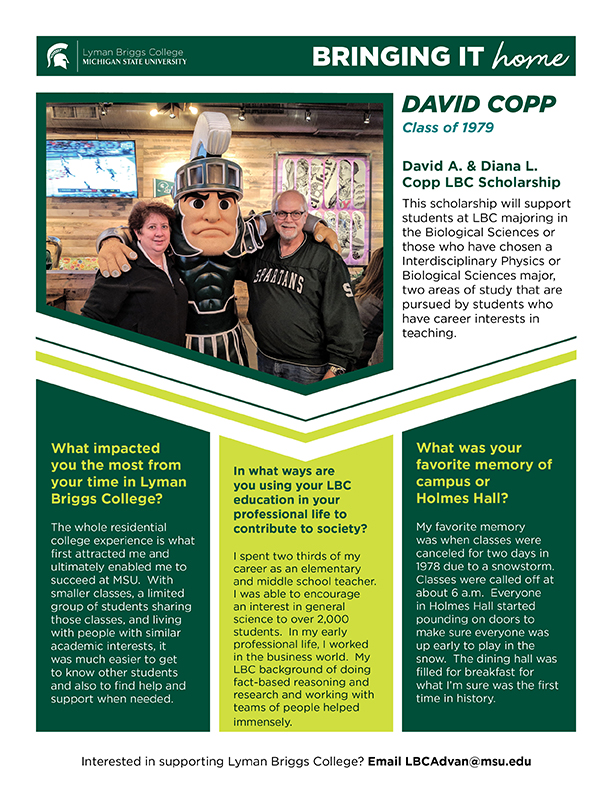 Accessible poster PDF (opens in new window)
Fund Description
David A. & Diana L. Copp LBC Scholarship

About the Fund

Dave and Diana Copp established this scholarship in 2020 to create an opportunity for worthy and capable students enrolled in Lyman Briggs College. This scholarship will support students at LBC majoring in the biological sciences or those who have chosen a Interdisciplinary Physics or Biological Sciences major, two areas of study that are pursued by students who have career interests in teaching.
More than ever, our world needs great scientific minds to meet our challenges head-on. Giving back to LBC is an investment in our future, a way to help the next generation get the education they need to survive in a changing world.
A Conversation with the Donor
What was your goal in establishing this fund?
To encourage students to remain in Briggs until degree completion by helping to defray some of the cost.

What impacted you the most from your time in Lyman Briggs College?
The whole residential college experience is what first attracted me and ultimately enabled me to succeed at MSU. With smaller classes, a limited group of students sharing those classes, and living with people with similar academic interests, it was much easier to get to know other students and also to find help and support when needed.

In what ways are you using your LBC education in your professional life to contribute to society?
I spent two thirds of my career as an elementary and middle school teacher. I was able to encourage an interest in general science to over 2,000 students. In my early professional life, I worked in the business world. My LBC background of doing fact-based reasoning and research and working with teams of people helped immensely.

What do you think will be a major research breakthrough in the next decade?
I think there will be new treatments or even cures for major health issues like cancer, diabetes, and dementia.

What was your favorite memory of campus or Holmes Hall?
My favorite memory was when classes were canceled for two days in 1978 due to a snowstorm. Classes were called off at about 6 a.m. Everyone in Holmes Hall started pounding on doors to make sure everyone was up early to play in the snow. The dining hall was filled for breakfast for what I'm sure was
the first time in history.

Who is someone that inspires you?
My dad was my inspiration throughout my life. He always set good examples showing how to better himself, how to care for and inspire family and friends, and how to provide a future for others.

What was something you never expected as an alum of MSU?
I never expected the recognition and camaraderie of fellow alums around the world. Wearing Spartan apparel will attract other Spartans no matter where you go in your travels.

Why is giving back to LBC important to you? What would you say to a classmate who is considering a gift of their own?
More than ever, our world needs great scientific minds to meet our challenges head-on. Giving back to LBC is an investment in our future, a way to help the next generation get the education they need to survive in a changing world.

What is your favorite book?
I don't remember which I read first, but "1984" by George Orwell, "2001: A Space Odyssey" by Arthur C. Clarke, and "Fahrenheit 451" by Ray Bradbury all inspired my lifetime enjoyment of science fiction and dystopian fiction. I guess I also like novels with numbers in the title!

What is something you like to do in your free time?
Travel (the planning is as much fun as actually going!), gardening, and biking

What is the coolest gadget that you love to use?
I'd have to say my smart phone. I grew up in a world where my first calculator cost $99 and all it did was add, subtract, multiply, and divide. I find it amazing all of the things that can be accomplished now with a smart device that fits in your pocket.

What is your ideal Saturday afternoon?
Going for a leisurely bike ride, then watching a ball game while enjoying some BBQ

What is your favorite food?
Deep-dish, Detroit style pizza

What is something that is on your bucket list?
There are several places I'd like to visit: Machu Picchu, Galapagos Islands, Australia, and Egypt are on the short list.

What is your favorite song?
"Blowin' in the Wind" by Bob Dylan

What do you think is the world's worst invention?
I think that social media in general is a double-edged sword. It is the world's worst invention because it has accelerated a loss of civility in the world. Behind the shield of anonymity, many people are emboldened to attack others who disagree with them. The responsibility brought about by face-to-face interactions has been lost.

What do you think is the world's best invention?
Social media is the world's best invention because it allows people to easily stay in touch with others around the globe. It removes the specter of isolation for many people because they're able to meet and talk with others they would otherwise never know. It also allows for the rapid spread of information from people who are eyewitnesses to events or who are organizing events that can have significant impact.

What is the most surprising talent you have?
I don't know if any of my talents are "surprising". Maybe that I used to play the accordion?

Where was the coolest place you have traveled?
Kruger National Park in South Africa. We were able to see thousands of animals in their native habitat including elephants, giraffes, zebras, lions, cape buffalo, impalas, rhinoceroses, hippos, warthogs, baboons, etc.

Someplace you would like to travel once COVID is in the past?
Machu Picchu, the Incan ruins in Peru, and the Galapagos Islands