David Cantor
Fund Donor: David Cantor

LBC Class of 1973
David and Gretchen Cantor Education Abroad Scholarship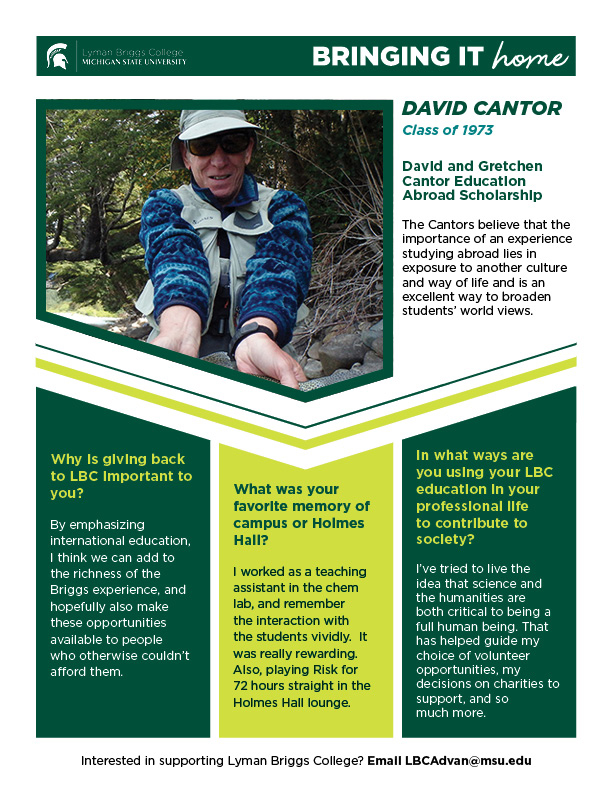 Accessible PDF poster (opens in new window)
Fund Description
David and Gretchen Cantor Education Abroad Scholarship

About the Fund

Dr. David Cantor graduated from Lyman Briggs College in 1973 with degrees in chemistry and secondary education. He went on to earn a Ph.D. in analytical chemistry from the University of Illinois. Mrs. Gretchen Cantor has a B.S. in chemistry from the University of Vermont. Both David and Gretchen have worked for a variety of pharmaceutical companies in manufacturing and research and development, both in the US and in Switzerland. It was during their time in Switzerland that the couple became especially interested in education abroad when a group of students from MSU were studying in Zurich under LBC Professor Gerd Kortemeyer. The value of these opportunities was cemented when the Cantors attended the LBC 50th Anniversary event and heard students talk about their experiences abroad. The Cantors believe that the importance of an experience studying abroad lies in exposure to another culture and way of life and is an excellent way to broaden students' world views.
I think that Briggs is a unique program, not only in the US but in the world. It is worthy of support.
A Conversation with the Donor
What was your goal in establishing this fund?
Encouraging/enabling Briggs students to experience other cultures, in depth, by supporting international education opportunities.

What impacted you the most from your time in Lyman Briggs College?
Absolutely, the professors. I had great relationships with several of them, and they really influenced my outlook on life, and the direction I took after graduation.
In what ways are you using your LBC education in your professional life to contribute to society?
I've tried to live the idea that science and the humanities are both critical to being a full human being. That has helped guide my choice of volunteer opportunities, my decisions on charities to support, and so much more.
What do you think will be a major research breakthrough in the next decade?
Not sure of the timing, but I suspect that the next big breakthrough will involve Artificial Intelligence. There are many potential breakthroughs in medical and biological science, as well.

What was your favorite memory of campus or Holmes Hall?
I worked as a teaching assistant in the chem lab, and remember the interaction with the students vividly. It was really rewarding. Also, playing Risk for 72 hours straight in the Holmes Hall lounge.

Who is someone who inspires you?
Oh, boy. Lots of people. I guess I'll name Barack and Michelle Obama.

What was something you never expected as an alum of MSU?
That I would become an avid fan of the MSU football and basketball teams.

Why is giving back to LBC important to you? What would you say to a classmate who is considering a gift of their own?
I think that Briggs is a unique program, not only in the US but in the world. It is worthy of support. By emphasizing international education, I think we can add to the richness of the Briggs experience, and hopefully also make these opportunities available to people who otherwise couldn't afford them.

What is your favorite book?
Lord of the Rings

What is something you like to do in your free time?
Practice for my piano lessons.

What is the coolest gadget that you love to use?
My floor loom.

What is your ideal Saturday afternoon?
Watching sports on TV

What is your favorite food?
Beefsteak

What is something that is on your bucket list?
Seeing the Grand Canyon

What is your favorite song?
"Celebrate" by Sly and the Family Stone

What do you think is the world's worst invention?
Instruments of torture

What do you think is the world's best invention?
The computer

Where was the coolest place you have traveled?
Sicily and its Greek and Roman ruins

Someplace you would like to travel once COVID is in the past?
Tanzania