Jon Wlasiuk
HPS
Faculty
West Holmes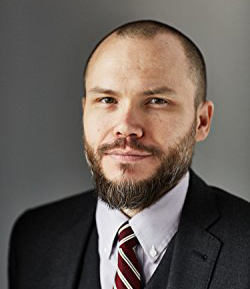 History, Philosophy & Sociology of Science
Holmes Hall, W-26A
919 E. Shaw Lane
East Lansing, MI 48825
(517) 353-3940
LBC COURSES
LB 325A/B: Science and the Environment

LB 133: History, Philosophy, and Sociology of Science

LB 492: Senior Seminar: The $cience of Capitalism

LB 240: Bioethics
---
BIOGRAPHY
I am a storyteller. The health of a society depends upon the stories it tells about itself. I believe that students of history and policy makers must consider multiple perspectives and understand what motivated past choices in order to build a better future. The role of the historian should be to use the past as a laboratory of social, political, and cultural experimentation that can inform the present. I structure my courses and research around the significant debates that frame our present: who has power in society; how do categories of identity alter social power; and how does nature structure human history and become altered by human culture?
---
EDUCATION
Ph.D., History, Case Western Reserve University, Cleveland, Ohio
M.A., History, University of Montana, Missoula, Montana 
B.A., History The Ohio State University, Columbus, Ohi
---
HONORS & AWARDS
2015 Excellence in Teaching Award, The Ohio State University, Mansfield (nominated)
2012 The Frank R. Borchert Jr. Prize for Best Dissertation, Dept. of History, CWRU
2011 School of Graduate Studies, CWRU, Fellowship Course. History 333: "Reading Das Capital." Instructor: Professor Ken Ledford.
2010 Baker-Nord Center for the Humanities Fellow, CWRU. Semester-long interdisciplinary seminar entitled: "Cultures of Green: Nature and the Environment."
2009 Besse Fellow, Encyclopedia of Cleveland History
---
RESEARCH
My teaching and research specializations focus on environmental history. I am committed to exploring how nature structures societies and how cultures, through technology, attempt to mold nature according to their economic and political desires. My current projects include a book on how citizen scientists and environmental activists on the Great Lakes created wildlife sanctuaries out of toxic waste dumps.

   
---
SELECTED PUBLICATIONS
Refining Nature: Standard Oil and the Limits of Efficiency. Pittsburgh: University 

of Pittsburgh Press, 2017.

"A Company Town on Common Waters: Standard Oil in the Calumet," Environmental History 19 (October 2014): 687-713.
---