Jim Smith, Ph.D.
Biology
Faculty
West Holmes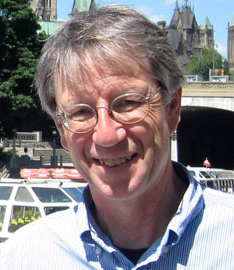 Biology
Department of Entomology, College of Agriculture and Natural Resources
Holmes Hall, W-26C
919 E. Shaw Lane
East Lansing, MI 48825
(517) 353-3939
LBC COURSES
LB 145: Introductory Cell and Molecular Biology

LB 144: Introductory Organismal Biology 

LB 348: Research Experiences in Biology: Exploring Genomes and Personal Genomics Data

LB 492: Senior Seminar: Evolutionary Medicine

LB 492: Senior Seminar: DNA Sequencing - Technology and Applications

LB 492: Senior Seminar: Biology of Complex Human Behaviors 

LB 494: Independent Research: The Popcorn Course
---
BIOGRAPHY
I teach primarily introductory biology, guide undergraduate research projects and lead seminar courses on genetic, evolutionary and environmental issues. I am jointly appointed in the MSU Department of Entomology and the Department of Integrative Biology, and MSU's interdepartmental graduate program in Ecology, Evolutionary Biology and Behavior. I am also a member of the NSF-funded BEACON Center for the Study of Evolution in Action.
My students and I conduct research on the evolutionary relationships of Rhagoletis fruit flies and the parasitoid wasps associated with their eggs, larvae, and pupae. While we are interested in all aspects of the biology of Rhagoletis species, we are particularly interested in deciphering the evolutionary relationships of the naturally occurring Rhagoletis species and populations that are distributed across the temperate zones of the Old and New World. We are also involved in a number of biology education initiatives and research projects, which are aimed towards helping students understand the relationships of genotypes, phenotypes, Mendelian genetics and biological evolution. One major project involves the design, implementation and assessment of a set of cases for evolution education that integrate principles from across biology's sub-disciplines. Another involves having students experiment with digital organisms, using the computer program Avida-ED, to explore how evolutionary processes play out.
---
EDUCATION
Ph.D., Botany and Plant Pathology, Michigan State University

B.A., Chemistry, Macalester College
---
HONORS & AWARDS
American Association for the Advancement of Science, Fellow, February 2017

Associated Students of Michigan State University, Senior Class Council, Outstanding Faculty Award, May 2015.

MSU Lyman Briggs College, Graduating Class of 2015, Honorary Faculty Award, May 2015.

Research Fellow in the American Society for Microbiology's (ASM) Biology Scholars Program, 2008-2009.

Sigma Xi, 2006.

MSU College of Natural Science Outstanding Academic Advisor Award, March 2005

Distinguished Membership, National Society of Collegiate Scholars, 1999
---
RESEARCH
NSF-IUSE (Proposal # 1432563), "Active LENS: Learning Evolution and the Nature of Science using Evolution in Action", Robert T. Pennock, PI, Richard Lenski, Louise Mead, Charles Ofria, James J. Smith, co-PIs, $2,315,695 (9/1/14 – 8/31/19; funded).

NSF-TUES (Proposal # 1043876), "Integrative Case Studies in Evolution Education", James J. Smith, PI; Merle Heidemann, co-PI; Jerry Urquhart (LBC), Cheryl Murphy (LBC) and Barry Williams (ZOL), Senior Personnel, $199,797 (3/1/11 – 2/28/14; funded).

SSE Outreach Award. "Science Supper: A Conversation About Evolution with Lansing area Biology Teachers". Oct. 21, 2010, $500.

Michigan GREEEN, Grant award for March 1, 2007 – June 30, 2008, "Establishment and use of microsatellite loci to characterize EAB populations in North America and Asia", Jim Smith, PI, $35,000.

USDA-FS Research Joint Venture Agreement with MSU, 7/25/07, Project Title: Geographic Origin of North America's Emerald Ash Borer in Asia, Jim Smith and Leah Bauer (USDA Forest Service, North Central Forest Service, E. Lansing, MI), co-PIs, $17,000 (amendment to the original agreement).
---
SELECTED PUBLICATIONS
Hulbert D, Jackson MD, Hood GR, Smith JJ. 2018. Description of a new Rhagoletis (Diptera: Tephritidae) species in the tabellaria species group. Insect Systematics and Diversity, 2(6):1–14. doi: 10.1093/isd/ixy016

Kohn C, Wiser M, Pennock RT, Smith JJ, Mead LS. 2018. A digital technology-based introductory biology course designed for engineering and other non-life sciences STEM majors. Comput Appl Eng Educ. 2018;1–12. https://doi.org/10.1002/cae.21986
Smith JJ, Johnson WR, Lark AM, Mead LS, Wiser MJ, Pennock RT. 2016. An Avida-ED digital evolution curriculum for undergraduate biology. Evolution: Education and Outreach, 9(1), 1-11; (DOI: 10.1186/s12052-016-0060-0)
Burmeister AR, Smith JJ. 2016. Evolution across the curriculum: A key and convenient time to change microbiology education. Journal of Microbiology & Biology Education, 17: 252-260. (DOI: http://dx.doi.org/10.1128/jmbe.v17i2.988)
Heidemann MK, White PJT, Smith JJ. 2016. "Evolution in Action." Published Case Study and Teaching Notes, National Center for Case Study Teaching in Science, University at Buffalo, State University of New York.
White PJT, Heidemann MK, Smith JJ. 2015. A cross-course investigation of integrative cases for evolution education. Journal of Microbiology & Biology Education, 16: 157-166; doi: http://dx.doi.org/10.1128/jmbe.v16i2.876.
Hood GR, Forbes AA, Powell T, Egan SP, Hamerlinck G, Smith JJ, Feder JL. 2015. Sequential divergence and the multiplicative origin of community diversity. Proceedings of the National Academy of Sciences of the United States of America, 112: E5980-E5989; doi:10.1073/pnas.1424717112.
Smith JJ, Cheruvelil KS, Auvenshine S. 2013. Assessment of student learning associated with tree-thinking in an undergraduate introductory Organismal Biology course. CBE Life Sciences Education, 12: 542–552.
Bray AM, Bauer LS, Poland TM, Haack RA, Cognato AI, Smith JJ. 2011. Genetic analysis of emerald ash borer (Agrilus planipennis Fairmaire) populations in Asia and North America. Biological Invasions, 13: 2869-2887.
Smith JJ, Baum DA, Moore A. 2009. The need for molecular genetic perspectives in evolutionary education (and vice versa). Trends in Genetics, 25: 427-429.
---