stef m. shuster, Ph.D.
HPS
Faculty
East Holmes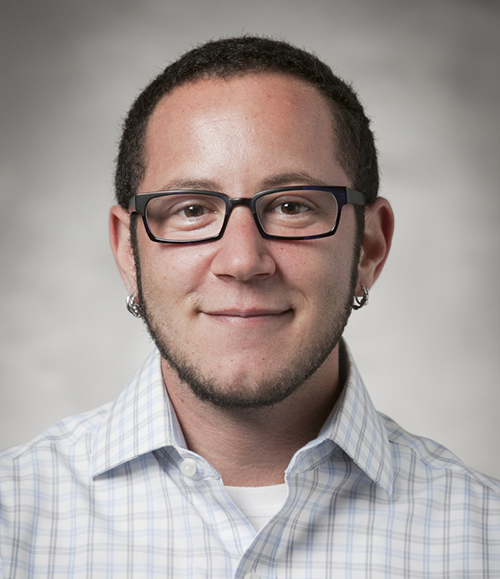 History, Philosophy & Sociology of Science
Department of Sociology, College of Social Science
Faculty Affiliate: Center for Gender in Global Context
Holmes Hall, E-193A
919 E. Shaw Lane
East Lansing, MI 48825
(517) 355-4189
LBC COURSES
Medicine & Health

Science and the Public

LB 492 Senior Seminar: Constructing the Body
---
BIOGRAPHY
stef m. shuster is an assistant professor in Lyman Briggs College and the Department of Sociology. Their current research and teaching areas—in the social aspects of medicine, science, and gender—are united by an overarching interest in how evidence is a social artifact that is constituted through social, cultural, and historical contexts. Across their projects, shuster asks: who constructs evidence, how does evidence confer authority to individuals and groups, and how is it mobilized by social actors? shuster currently serves on the editorial boards for the Journal of Health and Social Behavior and Gender & Society.
---
EDUCATION
Ph.D., Sociology, with a certificate in Gender Studies, University of Iowa
B.A., Sociology, Indiana University, Bloomington
B.A. Sociology, Indiana University, Bloomington

Minor in Human Development/Family Studies
---
HONORS & AWARDS
2018 Award for Peer Reviewing Excellence, Journal of Health and Social Behavior
2016 Outstanding Faculty Award, Center for Sexual & Gender Diversity, Duke University
2014 National Center for Institutional Diversity Emerging Scholar Recognition, University of Michigan
2012 Diversity Catalyst Award, Office of Equal Opportunity and Diversity and Chief Diversity Office, University of Iowa
2012 Distinguished Student Leader Certificate, Hancher-Finkbine Committee, University of Iowa
2011 Hawkeye Award for Outstanding Student Organization Leader, Office of Student Life, University of Iowa
2010 Carl J. Couch Graduate Student Teaching Award, Department of Sociology, University of Iowa
2009-2012 Exemplary Senator for Service to the Community, Graduate Student Senate, University of Iowa 2008-2009 Graduate and Professional Student Award for Dedication and Enrichment of the Cultural and Resource Centers, Office of Student Life, University of Iowa
---
RESEARCH
The social life of evidence is the subject of a book project (under contract with NYU Press) shuster is working on. In Treating Gender: Transgender Medicine and Uncertain Expertise shuster demonstrates how providers respond to uncertainty in medical decision-making by using the authority of science and medicine to uphold their expertise, even when expertise is lacking and the scientific base is sparse. Treating Gender upends assumptions about how decision-making necessarily improves as a result of medical discovery, and addresses lasting concerns in medical sociology and gender studies regarding the construction, regulation, and use of "evidence" in the face of uncertainty.
---
PUBLICATIONS
shuster, stef. 2019. "Performing Informed Consent in Transgender Medicine." Social Science & Medicine 226: 190-197.

shuster, stef. 2019. "Quaring the Queer in Appalachia." Appalachian Journal 46(1-2): 72-87.

shuster, stef. 2017. "Punctuating Accountability: How Discursive Aggression Regulates Transgender People." Gender & Society 31(4): 481-502.

shuster, stef and Celeste Campos-Castillo. 2017. "Measuring Resonance and Dissonance in Social Movement Frames With Affect Control Theory." Social Psychology Quarterly 80(1): 20-40.

shuster, stef. 2016. "Uncertain Expertise and the Limitations of Clinical Guidelines in Transgender Healthcare." Journal of Health and Social Behavior 57(3): 319-32.
---
LINKS
---