Robyn Bluhm, Ph.D.
HPS
Faculty
East Holmes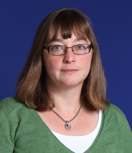 History, Philosophy & Sociology of Science
Department of Philosophy
Holmes Hall, E-190
919 E. Shaw Lane
East Lansing, MI 48825
(517) 884-8524
LBC COURSES
LB 133 - Introduction to HPS

LB 326A - Medicine and Health

LB 492 - Senior Seminar
---
BIOGRAPHY
I am a philosopher of science whose research and teaching focus on neuroscience and medicine, including psychiatry, where those two interests come together. I am especially interested in understanding how scientists' choice of methods and their background assumptions about the nature of the phenomena they investigate influence their research, which can have important ethical implications.
---
EDUCATION
Ph.D., Philosophy. Western University (Ontario)

M.A., Philosophy. McMaster University

B.A., Philosophy. Laurentian University

B.Sc., Behavioural Neuroscience. Laurentian University
---
RESEARCH
National Institute of Mental Health/BRAIN Initiative. ($1,414,478) Project Title: Is the treatment perceived to be worse than the disease: Ethical concerns and attitudes toward psychiatric electroceutical interventions. With Laura Cabrera (PI), Aaron McCright, and Eric Achtyes.

"On What Evidence" - book project in progress. Coauthor, Dr. Mark Tonelli
---
SELECTED PUBLICATIONS
Şerife Tekin and Robyn Bluhm (Eds.). (2019) The Bloomsbury Companion to Philosophy of Psychiatry. London: Bloomsbury Press.

Gungor NZ, Duchesne A, Bluhm R (2019) A conversation around the integration of sex and gender when modelling aspects of fear, anxiety, and PTSD in animals Scholar and Feminist Online 15(2)

Bluhm R, Cabrera LY, McKenzie R (2019) What we (should) talk about when we talk about deep brain stimulation and personal identity Neuroethics

https://doi.org/10.1007/s12152-019-09396-6

Bluhm R, Borgerson K. (2018) An epistemic argument for research-practice integration in medicine. Journal of Medicine and Philosophy 43(4): 469-484.

Bluhm R. (2017) The need for new ontologies in psychiatry. Philosophical Explorations 20(2): 146 – 159.

Hoffman G, Bluhm R. (2016) Neurosexism and neurofeminism. Philosophy Compass 11(11): 716-729.

Bluhm R. (2017) Gender and empathy. In The Routledge Handbook of Philosophy of Empathy Ed. Heidi Maibom. New York: Routledge. pp. 377 – 387.

Bluhm R. (2017) Nursing theory, social theory, and philosophy of science. In Social Theory and Nursing Theory Ed. Martin Lipscomb. New York: Routledge. pp. 35-47.

Stegenga J, Kennedy AG, Tekin Ş, Jukola S, Bluhm R. (2017) New directions in philosophy of medicine. In The Bloomsbury Companion to Contemporary Philosophy of Medicine Ed. James Marcum. London: Bloomsbury Press. pp. 343-369.

Bluhm, R. (2017) Evidence-based medicine, biological psychiatry, and the role of science in medicine. In Extraordinary Science and Psychiatry: Responding to the Crisis in Mental Health Research Eds. Jeffrey Poland and Şerife Tekin. MIT Press. pp. 37 – 57.
---
LINKS
Academia.edu
webpage
---